Aside from having a fantastic name, Valerie Trueblood is best known as one of Seattle's most accomplished short story writers. She has been on shortlists for the PEN Faulkner Award and the Frank O'Connor International Short Story Prize, and her work has been praised in all the usual New York media outlets.
But if you're not the kind of person who is moved by accolades — and, really, who can blame you? — then perhaps Roxane Gay's seal of approval might inspire you to pick up Trueblood's work? Gay says Trueblood's writing is "bursting with a genuine violence of health and strength of will that make each of her stories so engaging." Gay continues, "What I love most about her writing is how her stories are, at once bittersweet, joyful and mournful in equal measure."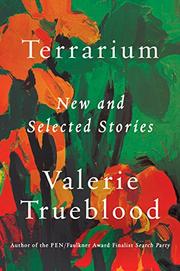 After about four years out of the spotlight, Trueblood is returning with Terrarium, a career-spanning collection that brings together her classic work and dozens of new stories. It's a statement piece, a book that seems to be intended to mark her as a real American master of the short story.
Terrarium is made up of the best stories from Trueblood's three previous collections, and 30 new stories. These are stories with killer first lines ("She was a young married woman who fell in love.") and final images that will leave your mouth hanging open (like the description of the whorls of a tornado as "a fingerprint big as God's.")
In the chronological arrangement of the stories in Terrarium, you can follow the arc of Trueblood's career, and change is definitely afoot. Trueblood is getting more and more minimalist in her work. The rambling earlier works that considered the journey to be just as important as the destination give way to tiny one or two pages stories. Trueblood is distilling the idea of fiction down to something pocket-sized.
Tomorrow night, Trueblood celebrates Terrarium's release day at Elliott Bay Book Company with a reading and a little celebration. If Terrarium becomes as well-regarded as it should, this might be your last opportunity to say you saw her read before she became a celebrity in the world of short fiction. Seattle needs to step up and embrace Trueblood before the rest of the world tries to claim her.
Elliott Bay Book Company, 1521 10th Ave, 624-6600, http://elliottbaybook.com, 7 pm, free.