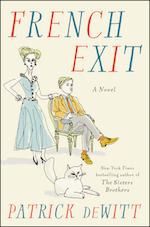 Patrick deWitt has a startling talent for pushing the mainstream askew — for example, mixing a Godot-like sense of the absurd with beloved Western tropes. His newest,
French Exit
, similarly sends up the comedy of manners, transporting an Upper East Side widow, her son, and their possibly possessed cat to the City of Light. Hijinks, of the classically dark and shady deWitt sort, ensue.
All well and good. But we'll go you one better: deWitt is touring with the book, and his Seattle stop pairs him with Maria Semple. The two will share a stage at the Central Library on September 6 for a conversation about — well, we'll be happy to hear those two talk about almost anything. They're both fiercely funny, but like deWitt's novels, slightly askew.
Check out more information from this week's sponsor, The Seattle Public Library, on our sponsor's page. Then put this event on your calendar — hard to believe it's free! You can buy a book while you're there to say thanks for a wonderful night.
Sponsors like The Seattle Public Library not only keep our readers in the know about upcoming events of interest — they support the great writing about books that you see here every day. Got an event, a book, or a residency you'd like to promote? Our 2018 sponsorships are almost sold out, but move fast, and you can reserve a slot before they're gone.