Every month, Daneet Steffens uncovers the latest goings on in mystery, suspense, and crime fiction. See previous columns on the Criminal Fiction archive page
Reading around: new titles on the crime fiction scene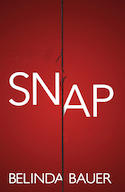 Ever since Blacklands, her gripping 2010 debut, Belinda Bauer has proved over and over again that she's a master not just of spinning suspenseful tales, but of imagining the most unsettling motivations for crimes. In Snap (Atlantic Monthly Press) – longlisted this year for the Man Booker Prize – a pregnant mother disappears and is found murdered; three years later, her three children are running feral in a house filled to the brim with old newspapers. The oldest, Jack, looks after his sisters, bringing them food and books – most recently, Stephen King's It – via his part-time job as a small-time burglar. Meanwhile, another heavily-pregnant woman finds a disturbing note by her bedside. As multiple lives converge, Bauer keeps things progressing, and us guessing: she always seems to have just one more nifty twist up her voluminous sleeve.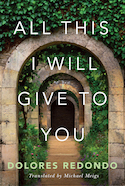 I've been waiting to read Dolores Redondo's All This I Will Give to You (AmazonCrossing, translated from the Spanish by Michael Meigs), since it won the 2016 Premio Planeta literary prize and garnered all sorts of accolades as a hybrid literary-commercial thriller. A baggy doorstop at more than 600 pages and a little bit loose, editing-wise, I found that I had to stick with it at times, particularly at the beginning. Ultimately, though, it pays off in spades: the Galician setting, its scraggly landscape persistently misted in a gentle rain, is a pleasure to spend time in, and once the familial mysteries rear their compelling heads, things speed up quite a bit. There's a tart-humored cop who's determined to pursue a fatal case that's been written off as accidental; a matriarch right out of a Gothic horror story; and a writer who thinks he knows everything – and then falteringly steps up to the plate as his world falls apart. A bit of a journey, but worth it.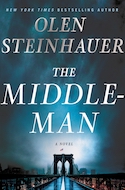 In The Middleman (Minotaur), Olen Steinhauer pulls no punches: pretty much a thriller for our time — of our time, really — this tour-de-force is a propulsive melange of the convoluted intrigues inherent in undercover work, and of forces for good battling forces for evil. The plotlines tidily juggle a suburban garden party with an organizational operation mid-action; pit the power plays of activist leaders against the political machinations behind national espionage institutions; and lets the cards fall where they may. Be sure not to miss Steinhauer's acknowledgements which briefly but richly reflect on the current relentless political and cultural dissonance, as well as on the invaluable guidance of an astute, thoughtful, and perceptive editor.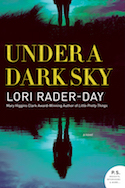 When she finds that her husband made reservations at a dark sky park for what would have been their 10th anniversary, widowed Eden Wallace decides to honor his plans on her own in Lori Rader-Day's Under A Dark Sky (William Morrow). But what Eden thought was a private reservation turns out to be somewhat of a party house: she has a suite to herself, but is sharing communal space with a clutch of college friends. Handsome Malloy seems to be the leader of the group, the man-glue that holds things together: he's encouraged Sam to gun for a promotion; dated Paris who is now with Dev; and basks in being the apple of Martha's eye. But this is no Big Chill-style reunion as becomes starkly clear when one of the twentysomethings is discovered on the kitchen floor with a screwdriver in their throat. There's nearly one red herring too many here, but Rader-Day holds the psychological-thriller-helm steady as she goes.
The Quintessential Interview: John Straley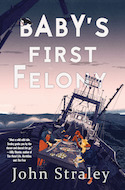 John Straley, the 2006-2008 Alaska State writer-laureate, masterfully balances semi-comic crime-caper elements with pitch-black criminal activities in Baby's First Felony (Soho), resurrecting criminal-defense investigator Cecil Younger for his first outing in 17 years. The Sitka, Alaska, fishing industry-centered setting embraces a plethora of slightly mad, slightly bad characters, all alarmingly overshadowed by the real – and truly evil – villain. On a more informational note, the novel is shot through with entertaining ruminations on the seminal elements of Baby's First Felony, "a self-help book….Intended for intellectually challenged criminals," based on Younger and his boss' experiences with their clients. (A complete and illustrated version is handily included at the back of Baby's First Felony, the novel).
What or who are your top five writing inspirations?
I've been inspired by the people I met working as a criminal investigator, and by listening to stories in bars and jail cells.
I love jokes and poetry and traveling by boat.
I like talking to strangers who are reading big fat books while sitting alone in noisy cafes.
I often get my best ideas for wild action scenes while sitting in poetry readings.
Top five places to write?
I love writing at my desk which has a window looking out at a cherry tree I planted by putting a cherry pit in a stump while chopping wood long ago. Now it almost blocks my view of the water.

I like writing notes at the Backdoor Cafe while drinking black tea.
I write notes on the bench in front of the Pioneer Home on sunny days.
I write in my journal on the flimsy tables on Alaska Airlines when I'm flying to Seattle to see my eye doctor.
I used to write notes in the interview room at the Sitka Jail while waiting for a prisoner, but no more: now it's just me and my cherry tree.
Top five favorite authors?
For years I was working on the list of books that I had lied to people about reading; I was an English major so the list was long. But by reading a lot of good books I got hooked on re-reading classic books I didn't really understand when I read them as a student.
I have to say I still love Steinbeck, and Hemingway was a lot sadder than I had remembered. I found his stuff very moving when I went back to it. Yes, he was a pompous jerk at times, but hey, who isn't in these times?
I got turned on to Willy Vlautinand I love his novels and how he treats people in the West. I studied with James Welch from Montana and he changed my life. His Riding the _Earthboy 40 knocked me out, and the Death of Jim Loney made me think for the first time that Western Literature was on par with what the Russians had done.
In poetry I adore Pattiann Rogers and think she is a national treasure.
Top five tunes to write to?
Now? Let me think… while I'm writing I don't want to be too distracted by the lyrics so it has to be instrumental OR it has to be something I have listened to so much that the lyrics are just built into the background of my brain. I need soothing and then energizing tunes for different times.
"Crosseyed Cat" by Muddy Waters
The Goldberg Variations played by Glenn Gould
"Streets of Bakersfield" by Dwight Yoakam and Buck Owens
Vivaldi's _Four Seasons with Pablo Casals
"My Dog Can Bark" by Treat Her Right
Top five hometown spots?
My House. Really. It's great.
I love the top of the O'Connell Bridge, which runs from Sitka over to Japonski Island, at sunset. It's a beautiful view of the harbor and a nice walk either way.
Walk through the Sitka National Historic Park in the rain: beautiful totems, good cover, great trails.
The Pioneer Bar on a Sunday morning when it's not crowded. Great old fisherman's bar. They may not smoke in bars in Brooklyn or Ireland, but as of this writing they are still smoking in the Pioneer. That's why I go in when it's empty, and will be there when the AA crowd is drinking coffee, checking out the beautiful gallery of fishing boats on the walls.
The Be-Ak (sic) cafe on Sunday for brunch. I go there to play music with my buddies every Sunday. We play mostly blues and swing music and a smattering of gypsy jazz. Guitar, mandolin, bass, and ukulele, and anyone else who wants to jump in: old guys who are experienced players who show respect to each other and the crowd. Not too loud or too irritating. After a week at my desk, it's my one bit of social interaction.
Then of course there's Old Harbor Books. Great assortment of everything, with an emphasis on local and Alaska.