All anyone on the internet can talk about right now is an impossibly famous, wealthy, and powerful man's penis. The revelation has inspired crude jokes, boundless speculation, and more than a little controversy.
I'm talking, of course, about Batman.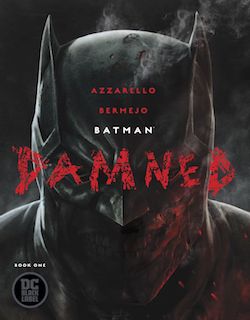 The first issue of the three-part Batman: Damned series was published yesterday, and for several panels in which Bruce Wayne wanders around the Batcave nude, artist Lee Bermejo clearly illustrated the contours of Wayne's penis. Before you start worrying about the children, you should know that this comic is intended for adult audiences. Damned is the first original series to be published by DC Black Label, a new imprint allowing for idiosyncratic takes on classic DC Comics superhero characters.
The fan response to Batman's wang was so loud and so unhinged that DC Comics apparently edited the offending unit out of the digital version of the comic. This means that DC could perform the same edit job on future editions of the comic, so the copies of Damned that are on the shelves right now might be the only chance readers will ever get to see Batman's genitalia in an official DC Comic. For whatever that's worth.
Damned is a horror story in which Batman may have killed The Joker. (Our hero, having suffered a traumatic injury on the night that the Joker's body was found, doesn't remember what happened.) All sorts of DC Comics dark fantasy characters show up including John Constantine, the Enchantress, Zatanna, and a personal favorite of mine — Deadman. It's pulpy fun that feels reminiscent of those early days of Vertigo, when Superman would wander into a Sandman comic and try to grit his teeth and ignore all the weird shit happening around him.
The big selling point here is Bermejo's painted art, which portrays Batman as a giant slab of beefy eroticism. It's like what would happen if Tom of Finland illustrated the comic adaptation of a Batman movie. Brian Azzarello's script establishes a large cast of characters and a good central mystery, although there's way too much narration on just about every page. Bermejo can relay more information in a single panel than a hundred captions. ("He's running for his life," reads a single caption in a panel depicting Batman running for his life.)
The most exciting part of Damned, for me, has nothing to do with Batman's penis. It's the format of the book. Damned is presented as a graphic album: for $6.99, it's bigger and wider than the average comic, it's printed on better paper, and it's squarebound. It's a format that demands the reader take the art seriously, and Bermejo makes the most out of the high-definition treatment.
Despite Damned's early in-comic tributes to classic Batman tales The Killing Joke and The Dark Knight Returns, I don't think it will take a place alongside those books as an all-time great Batman story. Explaining Deadman — a circus performer who died and is now spending his afterlife hunting down his own murderer by possessing innocent bystanders — to a general audience seems like too much of a lift. But for hardcore readers who like to see different interpretations of their favorite heroes, Damned is an interesting, uh, package.