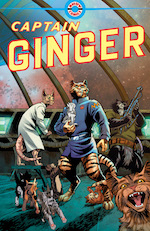 We always knew it was coming. When the human race died out, it wasn't the roaches that inherited the Earth — it was the cats! Or at least one starship full of them. Now, the intrepid Captain Ginger struggles to keep his fellow felines united against a hostile universe.
AHOY Comics is back to sponsor the great reviews and essays you'll see this week and to promote their new title, Captain Ginger: Thirty-five pages of comic adventure — with a bite — by writer Stuart Moore (Deadpool the Duck, Batman: Noir Alley) artist June Brigman (Power Pack), inker Roy Richardson and colorist Veronica Gandini. Mike Allred calls it "INSANE, in the best possible way when one describes something as 'insane'!" And although dogs outweigh cats (pound for pound) on the Seattle Review of Books team, we agree Captain Ginger is something special.
And we've got something special from AHOY on the site — letters from writer Stuart Moore and famed comic artist Walter Simonson. Stop by our sponsor feature page to read, and check out a few pages from the book, and better yet. Then pre-order a copy from your local comics store.
Sponsors like AHOY Comics make the Seattle Review of Books possible. Did you know you can sponsor us, too? There are only two slots remaining in 2018, so grab this chance to get your stories, or novel, or event in front of our passionate audience. Take a glance at our sponsorship information page for dates and details.