It was a jam-packed new comic book day at comics shops yesterday, with everyone rushing to read the first issue of Tom King's superhero-mass-shooting crossover Heroes in Crisis and the latest issue of the Watchmen crossover series Doomsday Clock. Those are big, serious adult superhero stories — you can tell by all the blood and dead bodies and nudity — though neither of them are anywhere near as moving as Chip Zdarsky's final issue of Peter Parker: The Spectacular Spider-Man, which is number 310 in the series.
If you enjoy the character of Spider-Man, I can't recommend this issue enough. Zdarsky perfectly nails down what makes Spider-Man so fascinating: he's funny, but he's also incredibly annoying. He's kind-hearted, but he's also a little bit obsessive. He finds ways to help people in need that go far beyond the standard superhero fare, and this story — which you can read without first reading any other issues of the book — highlights both his strengths and weaknesses in turn. I wish more superhero comics were this tightly constructed, and moving, and fun.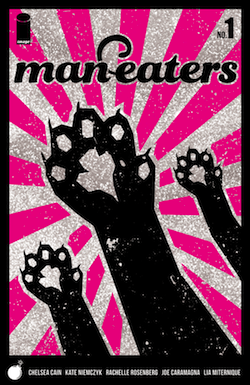 But the highlight of the week for me is the first issue of Man-Eaters, a new series by Portland author Chelsea Cain. Illustrated by Kate Niemczyk and colored by Rachelle Rosenberg, Man-Eaters is the sci-fi story of an epidemic that finally makes men as terrified of women as women have traditionally feared men.
If that sounds like a horror comic to you, you should know that Man-Eaters is very funny, too. Cain and Niemczyk are remarkably inventive here, telling the story through traditional narrative comics and graphs and photorealistic effects and other wild experiments in visual narrative. There's a lot of exposition here, but the storytelling is so exuberant that none of it feels like a chore to read.
Cain seems to inherently understand what it is that makes comics so great: unlike novels, comics can relay a tremendous amount of information in a single image that takes a second or two to read. Niemczyk and Cain are so good at relaying that information that a reader might have to force themselves to go back and read the first issue several times, just so they can fully realize how information-dense it is. In a week where superhero comics are trying (and in some cases failing) to address very real issues like trauma and the impact of violence, Man-Eaters is tackling misogyny head-on, and making it look effortless.