Every week we ask an interesting figure what they're digging into. Have ideas who we should reach out to? Let it fly: info@seattlereviewofbooks.com. Want to read more? Check out the archives.
Stesha Brandon is a wonder. Formerly of Town Hall Seattle and University Book Store, Stesha is currently the Literature & Humanities Program Manager at Seattle Public Library, and serves as board president at Seattle City of Literature. Other volunteer service includes the Bumbershoot Task Force, the Washington State Book Awards jury. When she's not reading, Stesha keeps chickens, knits, and bakes tasty treats. On that last point, a point of editorializing: if you've been the beneficiary of Stesha's baked goods, you understand just how much "tasty treats" is totally underselling her absolutely divine pastries.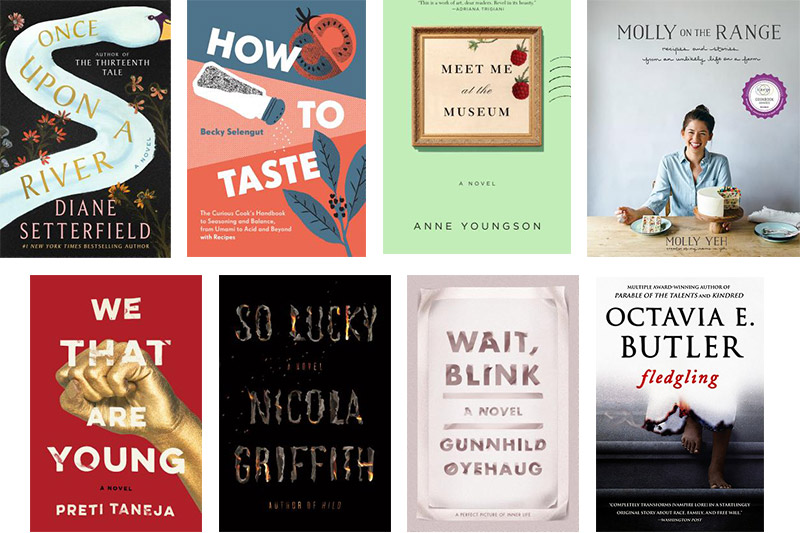 What are you reading now?
I'm finishing up Diane Setterfield's forthcoming book, Once Upon a River. It's eerie and atmospheric and feels a little like a fairy tale. The story centers on a young girl who may have been drowned, and then comes back to life. It doesn't come out until December, but it feels perfect for a fall/winter read.
I'm also reading local chef and author Becky Selengut's newest book How to Taste, which is super interesting. It talks about how our taste functions and has experiments/recipes so the reader can experience firsthand what Becky is talking about.
What did you read last?
I just finished listening to Meet Me at the Museum, which is an epistolary novel of two letter writers, one in England and one in Denmark, and how their connection shapes their lives.
And anyone who knows me knows that I read cookbooks like novels. I just finished Molly on the Range, by Molly Yeh. It has a wide array of recipes that highlight that she's a city transplant into Midwest farm life.
What are you reading next?
This list is always long and gets longer by the day! I've got a big stack of books waiting, but I'm excited to read We That Are Young by Preti Taneja. It's a resetting of King Lear in contemporary India. I'm also looking forward to reading Nicola Griffith's So Lucky. Nicola is one of the most interesting people writing these days, and I can't wait to dive into her newest book. I've also just checked out Wait, Blink by Gunnhild Øyehaug — a Norwegian novel on the longlist for the National Book Award in Translation and Fledgling by Octavia Butler. I've read several of her books, but somehow never got to this one.