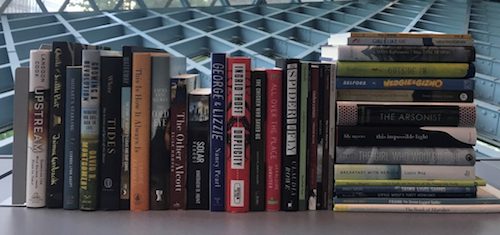 Maybe attending a book award ceremony isn't the first thing you think of for an evening out. We're here to change your mind.
On October 13, this week's sponsor — the Washington Center for the Book — is hosting the ceremony and celebration for the 2018 Washington State Book Awards. This is Washington's iconic regional award; there are 36 finalists, criss-crossing county and genre lines: Claudia Castro Luna, Geraldine DeRuiter, Laurie Frankel, Nancy Pearl, and many many others.
The announcement of the winners is only a small part of the evening. The celebration is at Seattle's Central Library, and almost all of the finalists are scheduled to attend. After the formal ceremony, the third floor of the library opens up for an after-hours celebration: snacks, drinks, and a chance to talk with a group of people who are unlikely to be in the same room for any other occasion.
Come out and celebrate with them! Visit our sponsor feature page for more information and full list of finalists. We hope to see you there.
Sponsors like the Washington Center for the Book make the Seattle Review of Books possible. Did you know you can sponsor us, too? There are only two slots remaining in 2018, so grab this chance to get your stories, or novel, or event in front of our passionate audience. Take a glance at our sponsorship information page for dates and details.