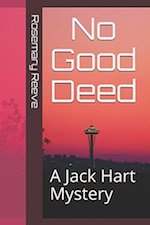 A huge thank-you to Rosemary Reeve, who is a returning sponsor this week! Reeve sponsored us earlier this year to share
All Good Things
, the first book in her Jack Hart series of legal thrillers. Now she's back with another blazingly readable installment. Jack Hart and Harmony Piper are young lawyers at a big Seattle firm.
No Good Deed
finds them fighting for a friend's freedom after he's charged in a police shooting.
"This book feels ripped from today's headlines," says Reeve, "but I wrote it more than 20 years ago. In No Good Deed, I was trying to create a scenario that would be everyone's worst nightmare. More than 20 years later, it still is."
Stop by our sponsor feature page for a sample.
I wish to hell I had made Mark stay over that night. I could tell how tired he was. His face looked taut and pale in the misty evening, like a grey mask. Even inside the house, his eyes seemed shadowed. More ...
Sponsors like Rosemary Reeve make the Seattle Review of Books possible. Did you know you can sponsor us, too? We're sold out through January 2019. And even though we haven't released the next block, there are just a few dates left in February. Want to reserve your dates before they go public? Just send us a note at sponsor@seattlereviewofbooks.com.