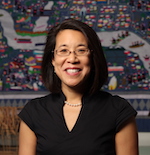 This week, the Seattle Public Library is back to sponsor the site and to make sure you're all in attendance at a very important event: the Bullitt Lecture in American History, coming up in early December.
If there's ever been a time when we needed the perspective of history — to understand what the heck is happening on the political stage, and to understand how to dig ourselves out of it — it's now. And this year's lecture is dead on target. The speaker is Erika Lee, one of the nation's leader experts on the history of immigration. Her theme is xenophobia, from the Japanese Amerian incarceration to the "Muslim Ban."
Tom Ikeda, co-founder and executive director of Densho.org, will join Lee in conversation after her lecture. Densho looks at the same history through testimonials and digital storytelling. It's an incredible site, and he's the perfect local complement to Lee. The free event is at 7 p.m. on December 1. Read more about the speaker on our sponsorship feature and put it on your calendar today.
Sponsors like the Seattle Public Library make the Seattle Review of Books possible. Did you know you can sponsor us, too? We're sold out through January 2019. And even though we haven't released the next block, there are just a few dates left in February. Want to reserve your dates before they go public? Just send us a note at sponsor@seattlereviewofbooks.com.