Every month, Daneet Steffens uncovers the latest goings on in mystery, suspense, and crime fiction. See previous columns on the Criminal Fiction archive page
Happy New Year! Please enjoy this musical interlude, a video of Elvis Costello's "Watching the Detectives" by the joyous Fun Lovin' Crime Writers, belting it out at the Edinburgh International Book Festival in 2017.
And, closer to home, the ace Australian crime-fiction writer Jane Harper will be in conversation with Danya Kukafka at Third Place Books, Lake Forest, on February 5, marking the publication of her third thriller, The Lost Man.
Reading around: new titles on the crime fiction scene
A superior-court judge with a promisingly stellar career arc ahead of her, Juliana Brody finds her very existence rapidly coming off the rails after an ill-advised one-night stand in Judgment by Joseph Finder (Dutton). To term this thriller "twisty" is putting it mildly: a massive proportion of the pleasure here is reading rapidly along as a smart, feisty, refreshingly imperfect woman grimly holds on for dear life while riding an unexpected personal rollercoaster, digging deep to find personal strengths – shards of ruthless inner steel, really – she previously only guessed at. Finder's narrative zips ahead at a steady clip, incorporating multiple contemporary zeitgeists in its slipstream.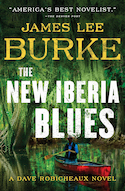 A tarot-card-inflected series of murders thrusts Robicheaux and Clete Purcel into the dark shadows of Hollywood illusions and creepy hitmen in James Lee Burke's The New Iberia Blues (Simon & Schuster), a novel in which spirit worlds, the physical degradation of Louisiana, a plentiful bevy of dive bars, and the soulless evil behind money-laundering collide. Poet-philosopher-police detective Dave Robicheaux is in fine form here – his ruminations on himself, his friends and family, and the world around him are literary gold – and Burke, the poet-philosopher of American crime-writing, even more so.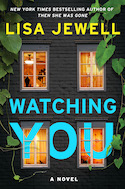 On a quiet Bristol street, in Lisa Jewell's Watching You (Atria), there's little privacy between neighbors, from the perfect fix-it-all headmaster and his on-the-spectrum son, to a happy-go-lucky young woman and a teenage girl caring for her mentally ill mother. When murder-most-gruesome takes place in one of their houses, the stage is set for an intriguing exploration of the who and the why. A master at unspooling tightly told tales, Jewell specializes in perfectly-pitched thrillers without sacrificing a drop of her characters' complexities, secrets, and desires, and this latest one is no exception.
The stage is set for a wild Strangers-on-a-Train ride in Amy Gentry's Last Woman Standing (Houghton Mifflin Harcourt), when Dana Diaz' and Amanda Dorn's eyes meet across a crowded room: Dana is doing her stand-up routine on an Austin stage; Amanda is in the audience offering Dana a bit of friendly succor during a heckling moment. But while this "You scratch my back, I'll scratch yours" plotline includes moments of delicious and perhaps appropriate revenge, all is not what it seems to be. Woven into the suspenseful narrative are elements of the #MeToo movement and the gig economy, as well a few familiar old chestnuts including the vagaries of friendship and lost loves, the heartbreak of deception, and the heart-stopping chill of insidious intents.
Lyndsay Faye's The Paragon Hotel (Putnam) is a joyful tour-de-force, a crime novel that lunges from early 20th Century Manhattan, its neighborhoods in the grip of the Mafia, to 1921 Portland, Oregon, where the Ku Klux Klan are fomenting fear. Issues of race and drugs and sexism run rampant, as do manifestations of loyalty, friendship, and sheer, bloody-minded survival. Faye clearly relishes her work, wielding 100-year-old street vernacular as well as her richly delineated characters with an assured hand. All this, plus a nifty ode to the power of journalism as an active form of resistance: "….I wonder what a thousand Jennies, sitting at a thousand typewriters and punching millions upon millions of letters into straight columns, all those separate words in newspapers across the nation marching as one great force, might accomplish if given the means and the time." Ace.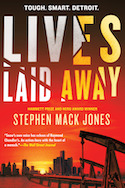 Ex-Detroit-cop August Octavio Snow is bent on the protecting the streets of his Mexicantown neighborhood in the terrific Lives Laid Away by Stephen Mack Jones (Soho). When a young undocumented immigrant – known to Snow's activist neighbor and godmother – is pulled from the Detroit River, the stage is set for some fierce vigilante action as Snow and his friends take on ICE, as well as a clutch of unofficial criminal organizations including white supremacist groups (or, "neo-Nutsys," as Snow calls them). FBI Special Agent Megan O'Donnell still has Snow's back – and he still gets some less-willing support from the Detroit cop-shop – but his real support system consists of the men and women of the city's streets, his friends, neighbors, and adopted colleagues – and a mouth-watering supply of delicious food and warming whisky.
In the opening pages of Jessica Barry's suspense-ridden Freefall (Harper), Allison Carpenter regains consciousness in the Colorado Rockies amidst the wreckage of a plane crash: she knows she must keep moving – while staying hidden – or risk certain death. Meanwhile, in Maine, her mother, Maggie, struggles to come to terms with the fact that her daughter has been reported dead. As the convoluted tale of the previous two years unfolds – what the hell was Allison doing in a tiny prop plane, anyway? – the recently-fraught relationship between mother and daughter proves to be the one thing holding each of them together.
The Quintessential Interview: Taylor Adams
At a remote rest stop, in a blizzard, on her way to try to get to her dying mom's bedside, Darby Thorne is forced to pull in out of the storm in Taylor Adams' No Exit (William Morrow). It's okay, though – there are four other stranded travelers there, so Darby isn't alone. Trying fruitlessly to find a signal for her cell phone outside the building, Darby instead makes a most unwelcome discovery, and the thriller takes off from there. Relentlessly suspenseful and all-too-realistically gory in equal parts, No Exit is both impressively visual and impressively visceral.
What or who are your top five writing inspirations?
I'm fascinated by storytelling momentum – that driving, can't-stop intensity that catapults you into the next scene, and the next – so any novel that can give me that euphoric sensation is high on my list of inspirations. Film structure, too, is a great blueprint that I always keep in mind. Take the structural perfection of a movie like Die Hard, for example, for cultivating and maintaining that level of intensity. Aside from books and film, other inspirations that give me the "fuel" to put in the time writing every day are music, the encouragement of my family, and coffee. Definitely coffee.
Top five places to write?
#1 is my couch, if it's a weekend. And #2 is the Sounder train to work, if it's a weekday. And...that's it, actually. I stick to a pretty rigid schedule – two hours of writing a day, no excuses – and the real blessing of living a ways north of Seattle is that now I can get my writing done as part of my train commute to my day job! (And, come to think of it, I suppose writing place #3 would be my desk, at work, when no one is looking.)
Top five favorite authors?
This is a tough one. How about: Scott Smith (The Ruins is the most crushingly realistic look at human frailty under pressure I've ever read), Mark Danielewski (House of Leaves is utterly brilliant), Stephen Hunter (nobody writes vivid, dangerous, sit-up-and-pay-attention action scenes like he does), Gillian Flynn (prose sharp enough to cut yourself on), and lastly, I'm a HUGE fan of the little-known Stephen King.
Top five tunes to write to?
I love writing to film soundtracks – anything tense, dynamic, and emotionally charged – so trailer music often fits the bill. Of course, it all depends on the tone of what I'm working on, but some favorites right now include the soundtracks to Sunshine, Dunkirk, 28 Days Later, Annihilation, and "Don't Fear the Reaper" (Blue Öyster Cult) – yes, not a movie soundtrack, but for some reason I'm obsessed with it right now.
Top five hometown spots?
So although some of these aren't quite "hometown" specific, they're certainly a drivable distance from Seattle, and all fun destinations I can't recommend enough:
Mount St. Helens: Challenging hiking, stunning geological history, and incredibly cool lava tubes to crawl through (headlamp required)
Flying Heritage & Combat Armor Museum: An amazing collection of historic military aircraft and armor, and much of it still drives and flies. (The air shows are spectacular)
Long Beach, WA: A relaxing beach town where I like to hide from my obligations and emails.
The Reptile Zoo in Monroe: Even if you're not a fan of reptiles, where else can you see all 10 of the world's 10 deadliest snakes?
Ruston Way Waterfront: A stunning waterfront in Tacoma with a paved trail for running. (Well, usually walking. I'm lazy).