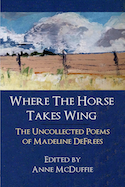 "[Madeline] DeFrees was one of the most vibrant, evocative poets the Pacific Northwest has ever produced," I wrote on this site three years ago, not long after her death. DeFrees's passing moved whole generations of Seattle poets — people who had loved her work as readers, or who knew her personally, or had just fallen in love with her as a reader of her own work.
DeFrees's work appealed to so many readers because it was so specific to her own experiences. That specificity brought a universal appeal to her writing. "Her charge as a poet," I wrote in November of 2015 when DeFrees's death was announced, "was to capture the workings of her mind, with all its contradictions and inconsistencies, and relate it in beautiful, entrancing language."
After every poet's death, there come a reckoning with legacy. Either people remember and celebrate their work, or the poet is forgotten. DeFrees was too important to Northwest poetry to be lost to time. In fact, our realization of the importance of her work has only grown in the years since her passing. DeFrees was the creator of a particular kind of confessional work that we're still seeing in our new Seattle poets today. It's probable that a hundred years from now, her name will tower over some of the white men who currently stand atop the Washington State Poetry Canon.
This Thursday, Hugo House celebrates the 100th anniversary of DeFrees's birth and the publication of a posthumous collection of her work, Where the Horse Takes Wing: The Uncollected Poems of Madeline DeFrees. Local poets including Anastacia-Renee, Susan Rich, Arianne True, and Natasha Kochicheril Moni will read some of DeFrees's work and discuss how she helped shape their own careers.
Anne McDuffie, the book's editor, will be on hand to discuss what it is like to oversee the next step in DeFrees's evolution as a poet. This is a rare chance to witness the moment in which a poet's afterlife truly begins.
Hugo House, 1634 11th Avenue, 322-7030, http://hugohouse.org, 7:30 pm, free.