WEATHER ALERT

Inclement weather has forced many bookstores and libraries to temporarily postpone their event programming; please call ahead or check the venue website before heading out.
Monday, February 11: Solmaz Sharif
CANCELLED
Seattle Arts and Lectures brings one of our most exciting young poets to town. Solmaz Sharif only has one book to her name — LOOK, published by Graywolf — but she's also written beautiful essays about erasure and the distance and closeness of language. She is a serious thinker about the capacity of language and if you care about words you should be at this event tonight. Broadway Performance Hall, 1625 Broadway, 934-3052, https://lectures.org/event/solmaz-sharif/, 7:30 pm, $20.
Tuesday, February 12: Postracial Resistance Reading
Using case studies including Oprah Winfrey and Michelle Obama, UW Professor Ralina Joseph's new book examines what it means to be black and female and a celebrity in a culture that too often considers itself to be postracial.
Seattle Public Library, 1000 4th Ave., 386-4636, http://spl.org, 7 pm, free.
Wednesday, February 13: The Cassandra Reading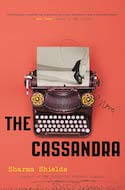 Spokane author Sharma Shields, whose debut novel The Sasquatch Hunters' Almanac was a worthy (and hilarious) addition to the Northwest canon of bigfoot literature, reads from her newest book — a novel that updates the Cassandra story for the 20th century. To celebrate her book launch on this side of the mountains, Shields is joined by authors Katrina Carrasco and Anca Szilágyi. Elliott Bay Book Company, 1521 10th Ave, 624-6600, http://elliottbaybook.com, 7 pm, free.
Thursday, February 14: American Sutra Reading
Subtitled
A Story of Faith and Freedom
,
American Sutra
is Duncan Ryūken Williams's investigation of the Japanese-American internment camps during World War II. Williams is an ordained Buddhist priest and a Buddhist scholar, so he brings that perspective to the story, focusing specifically on what the incarceration of Japanese-Americans means for religious freedom in this country.
Elliott Bay Book Company, 1521 10th Ave, 624-6600, http://elliottbaybook.com, 7 pm, free.
Friday, February 15: Tacoma Stories Reading
Richard Wiley's latest book,
Tacoma Stories
, is a linked collection of short stories that follows a number of characters through Tacoma on strange, stressful, and mysterious days in their lives. Tacoma is underrepresented in literature, so this book presents a tremendous opportunity for our sister city to the south.
Elliott Bay Book Company, 1521 10th Ave, 624-6600, http://elliottbaybook.com, 7 pm, free.
Saturday, February 16: LOVEFEST
See our Event of the Week column for more details.
South Park Hall, 1253 S Cloverdale St, https://www.facebook.com/southparkhall/, 8 pm, $7.
Sunday, February 17: Two Poets
Rusty Morrison is the author of poetry collections including
After Urgency
. Martha Ronk is the author, most recently, of the collection
Vertigo
. Together, they will read and discuss poetry.
Open Books, 2414 N. 45th St, 633-0811, http://openpoetrybooks.com, 7 pm, free.