Every month, Nisi Shawl presents us with news and updates from her perch overlooking the world of science-fiction, fantasy, and horror. You can also look through the [archives of the column](http://www.seattlereviewofbooks.com/tags/the-future-alternative-past).
My dead mentor Gardner Dozois told me he classified the futures he came across when reading science fiction as either "New Jersey" or "California Hot Tub." New Jersey futures were grim and full of work, while California Hot Tub futures, predicated on the existence of widespread automation and abundant free energy, dealt mostly with what we called in my far-off youth "the problem of leisure" — that is, what citizens to come were going to do with all the time saved by timesaving devices.
SFnal depictions of leisure activities sometimes contrast today's version of normal existence with strange, futuristic occupations. Cordwainer Smith's story "Scanners Live in Vain," for instance, tells of a man deprived of sensory input so he can endure the pain of space travel; his recreation involves reconnecting himself to his nervous system so he can feel his feet on the floor, hear the music his wife plays, smell the reconstituted odor of lamb chops. His recreation is the life we take for granted.
More often, though, it's the recreation itself that's science fictional rather than the work it relieves us from. An early example is Kate Wilhelm's disturbing 1967 proto-cyberpunk story "Baby, You Were Great," included in Lisa Yaszek's Library of America anthology The Future Is Female! 25 Classic Science Fiction Stories by Women. In Wilhelm's California Hot Tub future, boredom is escaped by imbibing another's emotions. The "sim-stim" stars of William Gibson's "Burning Chrome" and the rest of his Sprawl Trilogy provide similar relief, capturing and broadcasting their lives via artificial lenses: Zeiss-Ikon eyes implanted for an expensive fee. The latest take on first person shooter-type immersive recreation comes in Rebecca Roanhorse's Nebula Award-winner "Welcome to Your Authentic Indian Experience(TM)," a short story which also makes wicked fun of cultural appropriation.
The Player of Games by Iain M. Banks pits Gurgeh, a citizen of that ultimate in California Hot Tub futures, The Culture, against denizens of the Empire of Azad, in a complex game whose stakes are life, death, and reign over the Empire. With a centuries-long lifespan, first-rate medical care, and complete economic freedom, Gurgeh has an indubitable lead over native Azadian players — or does he? Does their ingrained knowledge of the game and scarcity-induced fervor for victory outweigh his advantages? And do the high stakes and immersion Gurgeh commits himself to remove it from the category of recreation?
Fantasy is much less often concerned with the future, and though there can be worlds of magical abundance or scarcity, they don't seem to have the same effect on how leisure-filling gets portrayed. Faeries are addicted to dance in Jonathan Strange and Mr. Norrell; in The Lord of the Rings, Gollum trades riddles with hobbits and just about everyone sings. Prince Alveric, hero of The King of Elfland's Daughter, hunts a unicorns as pastime. The beast is fantastic, but the activity itself is mundane. As are the aforementioned singing and dancing.
Sometimes magic does make a difference in what characters do. It's hard to imagine the invention of quidditch without wizardry: flying broomsticks and enchanted quaffles, bludgers, and snitches. However, following up on the description in JK Rowling's Harry Potter novels, there's a real-life version being played internationally. It's sometimes called "muggle quidditch," after the magic-less muggles most of us are assumed to be.
Recent books recently read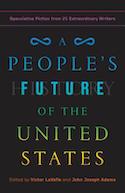 Hotshot editor John Joseph Adams teamed up with Black star rising Victor LaValle to put together the new anthology A People's Future of the United States (One World). With such a winning title (it refers to Howard Zinn's big hit, A People's History of the United States), and with a Table of Contents featuring Nebula Award-winner Charlie Jane Anders and two dozen other intriguing authors, this book's sure to attract lots of attention. And most of the contents deserve it.
Right on the mark when it comes to delivering the goods the book's title advertises are NK Jemisin's rollicking tale of soul food-digging dragons, "Give Me Cornbread or Give Me Death"; "The Blindfold," Tobias Buckell's extrapolation of modern jury selection methods' weaknesses and strengths; and Justina Ireland's heisty "Calendar Girls," a near-future thriller about a streetwise dealer in illicit condoms. Several more stories are close enough for jazz when compared to these ideals, though downbeat endings to certain otherwise brilliant pieces such as Daniel H. Wilson's "A History of Barbed Wire" may leave readers wondering whether we actually want the futures LaValle's introduction urges us to claim. Still, with only a couple of misses among the authors' swings at the piñata of audience satisfaction, the variations on a theme A People's Future provides are well worth the time and money it'll cost you to buy and enjoy it.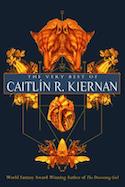 A collection rather than an anthology, The Very Best of Caitlín R Kiernan (Tachyon) hews to one style, uttering its fabulations in one piercingly delicious voice. My personal favorite, "The Maltese Unicorn," dishes up a Dashiell Hammett-esque crime narrative in a setting filled with bisexual demons and enchanted dildos. Often decay appears as a near-sentient character in the fictional worlds Kiernan constructs; often wickedness and ineffability and fate acquire a palpable, practically tactile presence in prose both teasing and pleasing. The author flirts with literary pretentions at times, and many of her overtures have been answered (as a glance at her long list of publication credits reveals) by hard-to-locate publications. Let us be grateful that Tachyon's Jacob Weisman and Jill Roberts have made appreciation much easier by curating this magnificent selection of Kiernan's eerily beautiful oeuvre.
Couple of upcoming cons
Once again this year I'll be flying to Florida to attend the International Conference on the Fantastic in the Arts, aka ICFA (pronounced "ick-phah!"). In addition to appearing on two panels--the maximum allowed — I'll host a reading and launch for the anthology I just finished editing, New Suns: Original Speculative Fiction by People of Color. The theme for this session of this semi-academic conference is conflict. Let's talk about it calmly, by the poolside, over tropical drinks.
The very same weekend, though, here in Seattle, the fan community hosts Emerald City Comic Con. Perhaps that will be more your jam? After all, ECCC is "the destination comic and pop culture show for the Pacific Northwest." It's big (last year over 90,000 attended); it features dozens and dozens of author, artist, and actor guests; it offers wristbands to overcome the invisibleness of some disabilities, and a bunch of other ADA help; and its anti-harassment policy is clear and straightforward. Win, win, win, and win.