Every week we ask an interesting figure what they're digging into. Have ideas who we should reach out to? Let it fly: info@seattlereviewofbooks.com. Want to read more? Check out the archives.
Tara Conklin is the Seattle-based author of the bestselling novel The House Girl, and has just released her second novel The Last Romantics (SRoB readers will be very interested to know: it's a novel about a poet). Tara will be reading from The Last Romantics at the Elliott Bay Book Company this Tuesday, February 19th at 7:00pm.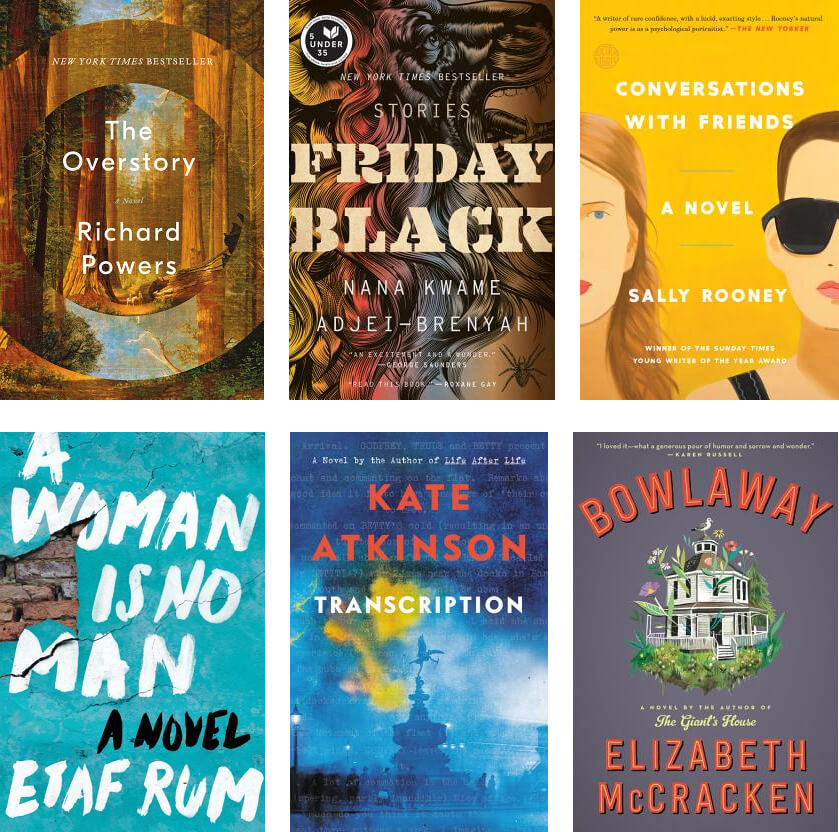 What are you reading now?
I usually have several books on the go at once. This month I'm promoting my second novel so I've got lots of travel time for reading. On the flip side, however, I have very little room in my suitcase, so I'm reading slim paperbacks on the road and big hardcovers at home. The hardcover keeping my attention these days is The Overstory by Richard Powers. It's a big, bold, inventive, intricate novel about a group of unlikely environmental activists who come together to save a pristine stretch of forest. I love novels that teach me things – whether history or different ways of life or, in this case, science. The environmental science underlying this book is fascinating. But I don't want to make it sound dry — it's decidedly not. Each character is brilliantly formed, each one distinct and compelling. I'm reading it slowly, savoring the sentences. It's a book that's making me look at the world a little bit differently, which is the most I can ask of any novel.

My current carry-on read is Friday Black, a debut collection of stories by Nanan Kwame Adjei-Brenyah, a book that comes with rave blurbs from Roxane Gay, George Saunders, and other writers I admire. The first story is raw, urgent and compelling — a dystopian look at racism that conveys the edge of contemporary truth, as all the best dystopian stories do. Adjei-Brenyah's voice is unlike any I've read before — it's brutally honest, wildly imaginative and tough but contains a real tenderness and surprising humor. I'm looking forward to finishing the collection. And seeing what he writes next.
What did you read last?
My last travel read was Conversations with Friends by Sally Rooney, a young British writer who's just starting to get attention here in the US. The book charts the relationships of two young female friends and former lovers who are befriended by a 30-something married couple. After the first few pages, I almost abandoned the book — it struck me as too hipster and self-conscious for my taste. But I kept reading, and I'm so glad I did. She writes like the love child of Lena Dunham and Jane Austen — emotional analysis in the extreme but with sweetness and real depth. I loved it.
My last at-home read was A Woman Is No Man, the debut novel by Etaf Rum. It might be unfair to mention this one because it's not out until March 5. I was lucky to score an advance copy and to meet Etaf at a book festival recently. Her novel is devastating and fascinating and moved me deeply. The book tells the story of three generations of Palestinian women living in the US, each struggling to find her place in a new home and an ancient culture. I've never read a book that focuses on Arab-American women's experience and the cultural norms that restrict them, even here in the twenty-first century. So much of the story seems pulled from a different time, but the characters are contemporary and the struggles they encounter about family, obligation and love are universal.
What are you reading next?
I have a towering stack of books on my bedside table! It's going to be tough to choose but I'm thinking my next reads will be: Transcription by Kate Atkinson. She's such a consistently inventive writer and I've loved pretty much every single one of her books — from the Brody Jackson detective novels to Life After Life, a brilliant mind-bending book that describes one woman's multiple possible lives. I feel like I can't go wrong with Atkinson. And Bowlaway, the new novel by Elizabeth McCracken. I absolutely loved her book of short stories, Thunderstruck — each one contains a whole universe and people you believe in. For probably a year, at least, Thunderstruck was the book I carried around in my bag to keep me company. Her new novel takes places in Massachusetts (my home state!) and revolves around candlepin bowling, a uniquely New England pastime that most people on the west coast have probably never encountered. Let's just say it's a quirky "sport" that seems an unlikely focus for a novel, but I have no doubt that McCracken will carry it off in style.