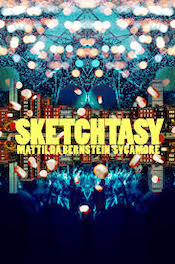 Back in October, I wrote about Mattilda Bernstein Sycamore's amazing novel Sketchtasy. I called the book, which is about the gay party scene in Boston in the 1990s, "a merry-go-round of drugs and sex and gossip and sex and drugs."
My review continued, "I recommend reading it in long sittings, so the breathless sentences clamber into your brain all at once, like a party that is tipping over into a riot." The book is remarkable, the culmination of all Sycamore's writing to date, an elegy and an all-night party.
Sycamore has been reading all around the country since Sketchtasy was originally published, but she hasn't read in her adopted city of Seattle — until now. This Thursday, Sycamore finally makes her grand homecoming in a reading at the Elliott Bay Book Company.
This is the opposite direction that most local authors go: they usually launch the books here before traveling the nation. But this direction feels right for this book, and for Sycamore: all the better to build up anticipation for one enormous celebration. You don't want to miss this.
Elliott Bay Book Company, 1521 10th Ave, 624-6600, http://elliottbaybook.com, 7 pm, free.