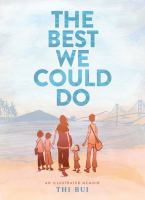 This week, the Seattle Public Library announced their 2019 Seattle Reads selection. This is the program that makes hundreds of copies of a single selected title available at libraries throughout the city, and which then brings the author to town for a series of readings, conversations, and examinations of the book.
This year's selection is a comic book: The Best We Could Do, by Thi Bui. SPL's site describes the book as...
...a haunting memoir about the search for a better future and a longing for a simpler past. Thi Bui documents her family's daring escape after the fall of South Vietnam in the 1970s and the difficulties they faced building new lives for themselves in America. As the child of a country and a war she can't remember, Bui's dreamlike artwork brings to life her journey to understanding her own identity in a way that only comics can.
It's obviously a great time for Seattle to get together to discuss the immigrant experience, and what it's like to be an outsider in the USA. It will be interesting to see how the Seattle Reads program interacts with a comic: will the book be more accessible to our city's general population? Will it change the way people respond to the text? Will a conversation with a cartoonist be any different than the novelists who've come to the city in the past?
This is an exciting choice for the Seattle Reads program, and I can't wait to see what happens if all Seattle reads the same comic. Copies of The Best We Could Do will soon be available at a Seattle Public Library branch near you, and Bui will be reading all over Seattle later this spring. Check back here for more information as it's available.