Every month, Daneet Steffens uncovers the latest goings on in mystery, suspense, and crime fiction. See previous columns on the Criminal Fiction archive page
Reading around: new titles on the crime fiction scene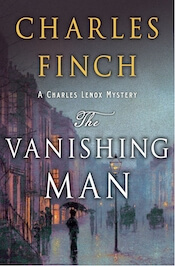 The Vanishing Man (Minotaur), the second of Charles Finch's trilogy chronicling the fledgling-career days of London detective Charles Lenox, delivers a doozy of a mystery. The action ranges from the inner sanctums of plusher neighborhoods, to the dingy pubs of the East End and the busy thoroughfare of the Thames River, as Lenox pursues a missing painting, a missing Shakespeare play, and a wealthy duke who has, it seems, the power and reach enough to manipulate circumstances as he likes. This historical crime novel is firmly planted in Queen Victoria's England, gentlemen's clubs, rigid social mores, newly published sensation Uncle Tom's Cabin and all, while gently planting the details that reveal the sturdy, nurturing ground from which Lenox grew to be an independent-thinker, generous friend, and empathetic ally. Tucked cannily in Finch's fiction are brilliantly compelling moments that acknowledge contemporary sentiments as well – "It was exhausting, this arrogance" – as well as a terrifically heart-heating delineation of a character who writes his dedications at the back of the book he's gifting because "it would be rude to speak before the author." Ace.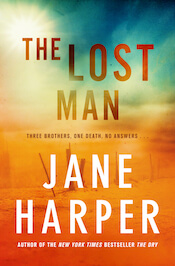 In the dusty, remote, palpably overheated Australian Outback, Cam, one of three brothers is found dead of exposure. Is it a murder mystery, a moral mystery, or a matter of accidental death? Jane Harper's third thriller, The Lost Man (Flatiron), limns the truly harsh realities of living in isolated circumstances, here in the very specific and pitiless geography of Western Australia, while also unearthing and exposing the vagaries of dysfunctional family dynamics, recognizable pretty much everywhere. As Cam's brothers, Nathan and Bub, their mother, and Cam's widow and daughters grapple with coming to terms with their loss, Harper evokes the complexities of love, hate, rage, emotional baggage, and a spot of redemption with a spare language that suits her story's geographical surroundings – and her characters' deeply interwoven and even more deeply imprinted relationships – down to a T.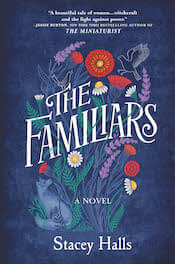 In The Familiars (Mira), Stacey Halls' arresting debut, Fleetwood Shuttleworth, 17-years-old, wife of the wealthy Richard Shuttleworth, and mistress of Gawthorpe Hall, has substantive reason to believe that her fourth pregnancy in as many years – the previous ones were unsuccessful – will end in both the child's death and hers. Hiring an experienced and intriguing midwife, one Alice Gray, makes such an immediate positive difference to Fleetwood's health, that she's emboldened to act when she realizes that local men in leadership positions are up to no good. But Alice and Fleetwood are caught in in a murderous, all-too-real tragedy – the notorious Pendle witch trials of 1612 – and thus their involvement is fraught with danger. A mesmerizing historical novel that deftly plumbs a darkly textured tapestry of so-called justice to reveal the real crimes being carried out against society: poverty, hunger, hopelessness, misogyny, and that mother of all-time high crimes, abuse of power.
The Smiling Man by Joseph Knox (Crown) finds Manchester detective Aiden Waits barely holding onto his career by his fingernails – some of his colleagues prefer not to work with him after his tangle with illegal substances in 2018's Sirens. As this riveting sequel opens, he and his partner, DI Peter Sutcliffe – for whom the description "grumpy, irascible, and belligerent" just doesn't even cover it – are called to a shuttered, for-sale hotel that's had a bizarre break-in. One bludgeoned security guard and one mysterious corpse later Waits and Sutty are immersed up to their eyeballs in a mystery that just won't quit. Not one to stint on complexities, Knox brings the gritty streets of Manchester, the unstoppable greed of some, the penchant for violence of others, and an enormous heft of Waits' seriously embedded emotional baggage and chequered past to bear on this shocking, elegantly-wrought police procedural.
There's a murderer loose on a gleeful killing spree – the targets appear to be pairs of friends who all receive odd little handmade books with quotes from literary works – and, as the recipient of one such booklet, stand-up comedian Kim Tribbeck looks to be a future victim. Kim, however, famously has no friends, so what gives? The Next to Die (William Morrow) by Sophie Hannah is a pleasurably convoluted mystery that even has Hannah's genius detective Simon Waterhouse stumped – not to mention his myriad colleagues and a serial-killer profiler. Meanwhile, Simon's wife, Sergeant Charlie Zailer, has her hands full working on the Tribbeck case as well as one a little closer to home: just what are her sister, Liv, and Liv's supposed former lover – and Si and Charlie's colleague – Chris Gibbs up to, insisting they've broken up but still sneaking around together, meeting other couples for lunch? Hannah, a poet as well as a novelist, infuses this engaging outing with the Culver Valley police department with even more wordplay than usual, giving the ever-acerbic police chief Proust some particularly tasty one-liners.
The Quintessential Interview: Don Winslow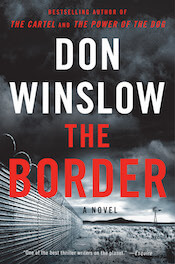 Fourteen years since he published 2005's The Power of the Dog, Winslow delivers The Border (William Morrow), rounding out his war-on-drugs trilogy that included 2015's The Cartel. This crime-thriller's action – which picks up immediately after Cartel's left off – is appropriately grim, violent, and fast-paced. We get up close and personal, for example, with second-generation drug lords, kids who were born rich and have learned more about getting high and getting laid than getting into business. But Winslow also immerses us in the lives of young immigrants, of desperate addicts, of undercover cops and federal higher-ups – the full range of people impacted by the greed, manipulations, and arrogance of the white-collar money-men and the gangsters they do business with, representing, as they clearly do, a brutally cruel supply-chain management system. Like other contemporary crime fiction, Winslow's mighty brick of a novel takes a swing at the horrific corruption trashing our democracy at the moment, and comes out winning.
What or who are your top five writing inspirations?
History. The news. Shakespeare. Jazz. The writers who came before.
Top five places to write?
A desk in a converted gas station I rent. My mother's porch. Any train. A tent. A beach parking lot.
Top five favorite authors?
Shakespeare. Jim Harrison. Bruce Springsteen. Raymond Chandler. Elmore Leonard
Top five tunes to write to?
"Darkness on the Edge of Town," Bruce Springsteen; "Moanin,'" Art Blakey and the Jazz Messengers; Beethoven String Quartet # 14; The Serpico soundtrack; "Everything Happens to Me," Sonny Stitt.
Top five hometown spots?
The beach near the house I grew up in. This fish and chips place on the harbour. The local library. A taco joint on Main Street. This old road that runs from the house, past a farm, to the beach.