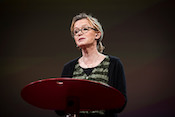 Our thanks to Northwest Associated Arts for returning this week to sponsor us. Coming up in April, NWAA is presenting another event that's sure to fill seats (hint, hint: get your tickets fast): Anne Lamott is taking the stage again at Benaroya Hall on April 7, 2019.
Maybe best known for her writing guide, Bird by Bird, Lamott's novels and essays are equally beloved and appear regularly on bestseller lists (and in the hands of readers and writers all over Seattle). She returns to Benaroya Hall following last year's sold-out appearance with an entirely new talk.
Lamott tackles the big subjects with grace, humor, and honesty. Her latest, Almost Everything: Notes on Hope was titled Doomed before her publisher protested. If that sort of wry but stubborn optimism is your style — and if you're living in Seattle, we bet it is — this event is a must-attend for you. Find out more on our sponsor feature page, then reserve your seat.
Got an event you think our readers would love? You can sponsor us, too. If you have an opportunity you'd like to get in front of our readers, reserve your dates now.