Every week we ask an interesting figure what they're digging into. Have ideas who we should reach out to? Let it fly: info@seattlereviewofbooks.com. Want to read more? Check out the archives.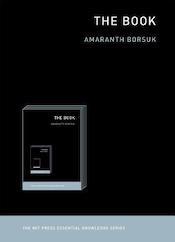 Amaranth Borsuk is a poet, scholar, and book artist working in print and digital media. Her latest work is The Book, which looks at the role of books in the digital age. Borsuk is our Poet in Residence for March (we've published one poem so far: STRAP ON A WITNESS WHEN YOU GO OUT WITH THE TONGUE IN YOUR MOUTH WORN THIN FROM WALKING). She's running a workship today at the Northwest Film Forum that will explore what compels participants about the integration of poetry and images, and they will write, film, and expiriment with developing video poems. There will be a screening of films created in the workshop on April 25th.

What are you reading now?
I'm reading Who the Hell is Imre Lodbrog (Outpost19, 2018) by Barbara Browning and Sébastien Régnier. Browning writes fabulous autofictional multimedia novels that include videos and music she creates through a panoply of alter-egos. This co-authored book tells the story of her friendship with a French musician whose real life sounds as though he were drawn from one of her novels. The two strike up a correspondence through mutual admiration of one another's Soundcloud accounts (Browning posts Ukulele covers she records as gifts to friends), and a long-distance friendship and collaboration takes shape. As someone who collaborates often, I admire the spirit that draws them together.
What did you read last?
I recently read Cecilia Vicuña's beautiful artist's book About to Happen (Siglio, 2017) with a group of Bothell MFA students who are launching an eco-poetic journal called Snail Trail. In addition to exquisite photographs of her landscape-based installations of ephemeral artwork, the book includes poetry and poetics by Vicuña, and some very helpful contextual writing about her work. We are all eagerly anticipating Vicuña's upcoming show at the Henry Art Gallery in Seattle, and her April 16th performance lecture at UW Bothell (which is free and open to the public)!
What are you reading next?
The catalog for Speech/Acts (Futurepoem, 2017), an exhibition of black artists working in experimental poetry curated by Meg Onli at the ICA in Philadelphia at the end of 2017. In addition to photographs of the exhibition (which I sadly did not get to see in person), it includes writing by some amazing poets: Harryette Mullen, Simone White, Fred Moten, and Morgan Parker. Also my former colleague Sarah Dowling's Translingual Poetics: Writing Personhood Under Settler Colonialism (Iowa, 2018), which explores the critical-creative work of multilingual poetry by a number of poets I admire, including Jordan Abel, Myung Mi Kim, M. NourbeSe Philip, Layli Long Soldier, and Vicuña. Both are intense and inviting volumes from which I have much to learn.