Monday, April 15: The Deepest Roots Reading
Local writer Kathleen Alcalá's The Deepest Roots: Finding Food and Community on a Pacific Northwest Island examines food at the hyperlocal level, using food as a way to explore the region's history, culture, and landscape. University Book Store,  4326 University Way N.E., 634-3400, http://www2.bookstore.washington.edu/, 6 pm, free.
Tuesday, April 16: Go Ahead in the Rain Reading
Hanif Abdurraqib's book about A Tribe Called Quest has one of the most striking covers I've seen in a good long while. It also, based on the response the book has been getting online, is a very, very good piece of music writing. Elliott Bay Book Company, 1521 10th Ave, 624-6600, http://elliottbaybook.com, 7 pm, free.
Wednesday, April 17: WordsWest
Ilya Kaminsky is a celebrated poet whose next book about his experiences with hearing disabilities, Deaf Republic, will be out soon. Mark Doty is the kind of poet that other poets swoon over. He writes deep and raw poems about his own life that inspire jealousy in all but the best poets. Together, they will read poems at West Seattle's best reading series. C&P Coffee Co., 5612 California Ave SW, http://wordswestliterary.weebly.com, 7 pm, free.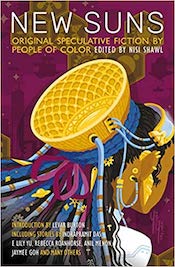 Thursday, April 18: New Suns Reading
Our own sci-fi columnist, Nisi Shawl, has edited a new anthology titled New Suns: Original Speculative Fiction by People of Color. It features work by writers including Seattle-area genius E Lily Yu, along with Indrapramit Das, Rebecca Roanhorse, and Jaymee Goh. The book also features an introduction by...maybe you should sit down for this...Levar freakin' Burton!
University Book Store,  4326 University Way N.E., 634-3400, http://www2.bookstore.washington.edu/, 7 pm, free.
Friday, April 19 and Sunday, April 21st: Bibliophilia
See our Event of the Week column for more details. Hugo House, 1634 11th Avenue, 322-7030, http://hugohouse.org, various times.
Saturday, April 20: Bushwick Book Club: The Parable of the Talents.
The local organization of local musicians, which translates books into original songs, takes on one of Octavia Butler's very best books. Guest-curator DJ Riz Rollins selected musicians for the evening, including JR Rhodes, Om Johari, Tiffany Wilson, Okanomodé, Reggie Garrett, and Nikkita Oliver. This one is going to be special. Langston Hughes Performing Arts Institute, 104 17th Ave S. https://www.langstonseattle.org/, 7 pm, free.