Every month, Daneet Steffens uncovers the latest goings on in mystery, suspense, and crime fiction. See previous columns on the Criminal Fiction archive page
Reading around: new titles on the crime fiction scene
The gothic-noir force is strong in Greg Iles' Cemetery Road (William Morrow). Marshall McEwan, recently returned son of Bienville-on-the-Mississippi, has been home just five months after absconding from a high-profile, D.C.-based journalism role, coming home in order to be closer to his ailing father, the publisher of Bienville's newspaper The Watchman. McEwan has reconnected, adulterously, with his childhood sweetheart, and holds the confidence of the local bookstore owner – a recent hometown-returnee herself – when murder most foul rears its ugly head. Faster than you can say, well, anything, Marshall finds himself tangled in an intricate web of small-town corruption, grafting, Machiavellian manipulation, and familial discord, led by the ultra-shady Bienville Poker Club under whose auspices elitism, racism, sadism, and sexism run rampant. As the dizzying puzzle slowly unravels into its multiple resolutions, the violence tends towards the graphic. But there are also moments of truly serene beauty in the history-rich setting, the unforgiving land-and-waterscape setting, and a bookstore any stockist – and reader – would be proud of.
More gothic elements abound in Erin Kelly's Stone Mothers (Minotaur), at the center of which sits a former Victorian mental asylum, now gaudily transformed into luxury flats. Marianne's husband surprises her with one of these flats – a second home outside their London base – offering her more time with her ailing mother. Marianne grew up near the asylum when it was known as Nazareth Hospital: her family's fortunes – everyone in that town's fortunes, actually – have always been tied to the hospital, which was once the area's biggest employer. Kelly, a member of the canny Killer Women collective and a practiced hand at inducing pleasurably creepy reading experiences, has been writing terrific psychological thrillers since 2010's The Poison Tree: in her capable hands, what begins here as an alarm-bell-ringing deception of a husband by his wife evolves into an unabashedly dark tale that throws into sharp relief some of our most critical contemporary issues as well as those of the all-too-recent past.
Chloe or Nicky – which one is The Better Sister in Alafair Burke's latest head-spinning mystery? Chloe is the OCD-driven, ambitious and highly successful sibling: she's even nabbed Nicky's ex-husband, Adam, for herself, along with Nicky and Adam's son, Ethan. But when Adam is brutally murdered at his and Chloe's East Hampton home and Ethan is nabbed as the prime suspect, the stage is set for a potential family confrontation that may or may not overwhelm the unavoidable murder trial. Taut-domestic-and-courtroom-thriller aspects aside, Burke is, as always, terrific on the salient cultural details that bring her characters to vibrant life, from social media threads and spot-on Sex and the City references, to Etsy and Malcolm Gladwell's 10,000-hour Rule. All this – plus another appearance from tenacious criminal defense lawyer Olivia Randell – adds up to one hell of a rip-roaring read. (Harper)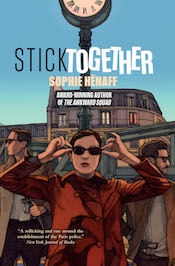 Murder hits close to home in Sophie Hénaff's Stick Together (MacLehose, translated by Sam Gordon). Someone is whacking older gentlemen in Paris and Lyon, and one of the victims turns out to be Commissaire Anne Capestan's ex-father-in-law. As she and her motley crew of semi-disgraced police detectives do their best to investigate on a restricted budget – in one of the funniest scenes, her colleague uses World of Warcraft avatar software to create an e-fit of a suspect – Capestan has to navigate not just annoying, impediment-producing police bureaucracy but an already tenuous relationship with her former husband. This killing spree is no laughing matter – the murderer is both clever and sadistic – but Hénaff injects delightful shimmers of humor into her novel, imbuing her characters' lives with a cornucopia of entertaining and tantalizing details, and making the novel's denouement all the more satisfying.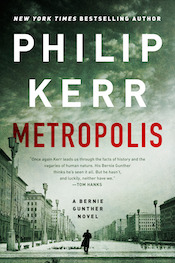 In Philip Kerr's posthumous Metropolis (Putnam), during a stiflingly hot summer in Berlin – 1928, to be exact – the Weimar Republic is in full swing as are the city's sex clubs, bars, and notorious street life. Bernie Gunther, promoted from Vice to the Murder Commission on his way to becoming a full-fledged detective, pursues a series of murder-scalpings of city prostitutes, but something worse is coming: bigotry, racism, and Fascism are on the rise, permeating every element of daily life.
Still reeling, along with most of his fellow countrymen, from his time in the WWI trenches, Gunther drowns his sorrows in alcohol and the occasional dalliance, gets sketched by artists George Grosz and Otto Dix, lends an ear to Lotte Lenya in rehearsals for The Threepenny Opera, and is schooled nicely in the human condition by theater critic Alfred Kerr. In this, Gunther's origin story – jam-packed with echoes of contemporary alarm bells – he also ventures into the emerging area of undercover work, and beholds some of the more squirm-inducing cabaret activities, the legacy of which is confirmed in Kerr's Author's Note: "The Cabaret of the Nameless…reminds me of Pop Idol and anything with Simon Cowell…."
The Quintessential Interview: Hanna Jameson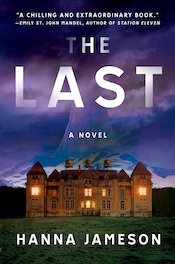 What do you do when the world as you know it has ended in puffs of nuclear bombs, and you're stuck in a remote hotel where a murder has been committed? This is just one of academic Jon Keller's multiple dilemmas in Hannah Jameson's The Last (Atria), when he finds himself trapped in Switzerland. Having travelled for a historians' conference, he suddenly finds himself separated from family and friends, and having to create a new way of living with complete strangers. Elements of Lord of the Flies mingle with post-apocalyptic angst, especially when the hotel survivors discover that they are not alone. Jameson, who also writes the London Underground mysteries, lives in London.
What or who are your top five writing inspirations?
Things and emotions that scare me. Anything David Lynch makes, says, writes, or does. Fear of being broke. Reading history. The idea that the only meaning we have in this life is in the good that we do with whatever superpowers we arrived with, and my superpowers happened to be writing and having awesome hair so I'm gonna carry on doing that.
Top five places to write?
I only have two; my local coffee shop (I always adopt one perfect coffee shop in whichever city I'm living in), or in my bed. There really is no in-between. However, if I was a lot richer I'd do a lot more writing in hotels, lakeside cabins in Maine, and ranches in the Midwest and South. I'll flesh-out my top five then.
Top five favorite authors?
It varies so much and probably day to day. But right now, off the cuff, I'd say Toni Morrison (who is our greatest living novelist, no competition), Madeline Miller, John Steinbeck, Graham Greene, JG Ballard.
Top five tunes to write to?
It's totally dependent on the project, because each project comes with its own soundtrack and emotional soundscape. Recently it's been 'In My Remains' by Linkin Park, 'Blood Like Lemonade' by Morcheeba, 'Run Boy Run' by Woodkid, 'Silk' by Wolf Alice, and 'Dona Nobis Pacem 2' by Max Richter, though I could easily have put Richter's whole soundtrack for The Leftovers.
Top five hometown spots?
I have a very fluid idea of what my hometown is. Winchester was my home until I was 21 yet I lived in Brighton for almost six years in my early 20s and went through most of the brutal, painful business of growing-up there. I lived in Edinburgh for five months and wrote my most successful book there, finding myself, in a way. London was where I learned the new craft and discipline required to be a screenwriter for a year. They all matter.
That being said, my top five of these places are:


Greyfriars Kirkyard, Edinburgh.
The Mark Rothko room at Tate Modern, London: I can sit or stand there for hours in the dark looking at those huge canvases. Great place to have a cry and feel things.
Redwood Cafe, Brighton. A cafe that is sadly no longer with us, but I wrote two books there and did a lot of other stuff too.
The Christmas Market at Winchester Cathedral.
By the sea, Brighton.