Every week we ask an interesting figure what they're digging into. Have ideas who we should reach out to? Let it fly: info@seattlereviewofbooks.com. Want to read more? Check out the archives.
Jasmine Silvera is the author of the Grace Bloods romantic urban fantasy series. The pen name of Rashida J. Smith, who is on the Clarion West board of directors and is a member of the Romance Writers of America, Silvera will be teaching a class tomorrow, Sunday the 28th, through Clarion West on Romantic Elements in Specultive Fiction. Grab a spot last-minute if you can!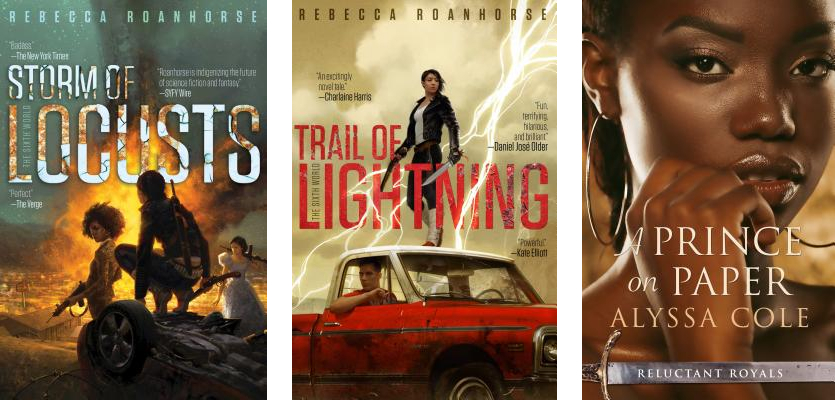 What are you reading now?
Storm of Locusts by Rebecca Roanhorse. It's proving to be the rare sequel that might be better than the original (no small feat!)
What did you read last?
I preordered the first novel in the Sixth World series, Trail of Lightning, based on the blurb and the incredible cover last year. By the middle of the second page, I had fallen in love with the world building and the narrator: pragmatic, damaged, powerful Maggie Hoskie. When I'd heard the ending was a bit of a cliffhanger, I put it aside to eagerly await the sequel (I'm terrible with unresolved conflicts) Rebecca happened to be participating in a the quarterly SFWA reading series in Kirkland to celebrate the launch of Storm of Locusts last week, so I got to hear her read Maggie in her own voice. I (finally) finished Trail of Lightning Thursday night. Even having read almost twenty books between starting and finishing it during an eight month delay, I fell back into the story instantly.
What are you reading next?
I've never been a huge fan of romances about royals, but every entry in Alyssa Coles' Reluctant Royals series has been a delightful surprise. A Prince on Paper comes out on 4/30 and is at the top of my list.