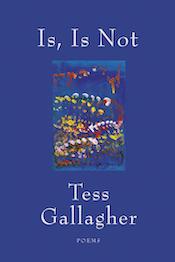 You have two opportunities this week to help a grande dame of Northwest poetry unveil a new book. On Tuesday, Tess Gallagher will be debuting Is, Is Not at Book Tree, a lovely store in Kirkland. And on Thursday, Gallagher brings her newborn book to Elliott Bay Book Company. You should attend one of these events.
Gallagher is a tremendously influential poet. I've lost track of how many poets I've interviewed who cite an encounter with Gallagher as the beginning of their life as a "real" poet. These stories vary — sometimes the poet becomes friends with Gallagher, sometimes they just exchange a few words after a literary event — but they are all career-altering moments.
Her career spans nearly five decades, and Gallagher has made the most of every moment of it. She has taught poetry to hundreds of students and edited anthologies and written short fiction and published dozens of books. It's impossible to account fully for her influence because her fingerprints are all over Seattle literature.
Gallagher's latest poetry collection, Is, Is Not, is very interested in time. These are poems about aging and all the frailty and confidence that it brings. Some poems skip forward in time, while many gaze backward. She writes that sometimes all it takes is patience to win a battle: "...wait long enough and things/will turn, will wear themselves out."
Ultimately, you can read Is, Is Not as yet another poetry book. But it also feels like a scattered memoir, a Vonnegut-like journey in an unmoored time/space continuum. The only constant theme in the book is Gallagher herself: all the watching, noting, remembering, and aspiring comes originally from her. And why wouldn't everything come from her? She has been a pillar of Northwest poetry since before many of your favorite poets were born. That kind of longevity and quality deserves a celebration. Or two.
Tuesday: Book Tree, 609 Market St, Kirkland, 425-202-7791, http://www.booktreekirkland.com/, 7 pm, free. Thursday: Elliott Bay Book Company, 1521 10th Ave, 624-6600, http://elliottbaybook.com, 7 pm, free.