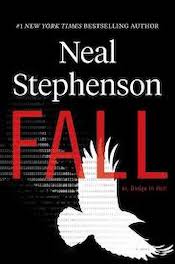 Monday, June 3rd: Fall, or Dodge in Hell Reading
I find it shocking how few people know that Neal Stephenson is a Seattle-area author — particularly since his books are very obviously influenced by the nature and culture of the Pacific Northwest. His latest book, Fall, or Dodge in Hell, a stealth sequel to his thriller Reamde, is a book that imagines what the Singularity might mean for our concepts of life and death. Town Hall Seattle, 1119 8th Ave., 652-4255, http://townhallseattle.org, 7:30 pm, $5/35.
Tuesday, June 4th: Seattle Botany A to Z
Orlando de Lange, a plant molecular biologist at UW, will discuss 26 "plants, people and places that define the green landscape and history of our city." Blackberries might be delicious, but de Lange classifies them as a "villain" to the city of Seattle. Plus: Drinks! Ada's  Technical Books, 425 15th Ave, 322-1058, http://seattletechnicalbooks.com, 7 pm, $10.
Wednesday, June 5th: Poetry in Translation: A Ramadan Feast
Washington state Poet Laureate Claudia Castro Luna curates this series of poetry readings intended to spotlight "the literary traditions of Seattle's immigrant and Native communities by sharing these groups' poetry and song in their original languages and in their equivalent English translation." There are no names of featured readers currently listed for this event, but it is Ramadan-themed. Northwest Film Forum, 1515 12th Ave, https://nwfilmforum.org, 6:30 pm, $5-15.
Thursday, June 6th: Hair Flip Release Party
See our Event of the Week column for more details. Fred Wildlife Refuge, 128 Belmont Ave. E., 322-7030, 7 pm, $10.
Friday, June 7th: Behold the Dreamers Reading
A native of the seaside town of Limbe, Cameroon, Imbolo Mbue is the author of the bestselling debut Behold the Dreamers, the story of a young Cameroonian couple whose new lives in New York are upended by the Great Recession. The novel won the PEN/Faulkner Award for Fiction, was an Oprah's Book Club selection, and was named a Notable Book of the Year by the New York Times and the Washington Post. Town Hall Seattle, 1119 8th Ave., 652-4255, https://lectures.secure.force.com/ticket/#sections_a0Ff4000002e6zDEAQ, 7:30 pm, $35
Saturday, June 8th: There Goes the Gayborhood!
A large and fun panel of cultural landscape specialists, historians, drag queens, and small business owners will discuss what it means for a traditionally gay neighborhood to face gentrification and massive construction. How do we preserve important places while still allowing new people to move in?
Seattle Public Library, 1000 4th Ave., 386-4636, http://spl.org, 10:30 am, free.
Sunday, June 9th: Like a Mother Reading
Seattle author Angela Garbes discusses her popular book about the biology and culture of mothering, which is now out in paperback. Elliott Bay Book Company, 1521 10th Ave, 624-6600, http://elliottbaybook.com, 3 pm, free.