Every month, Daneet Steffens uncovers the latest goings on in mystery, suspense, and crime fiction. See previous columns on the Criminal Fiction archive page
Reading around: new titles on the crime fiction scene
Murder, lost masterpieces, and a centuries-old pursuit converge in Deon Meyer's The Woman in the Blue Cloak (Atlantic). At a mere 172 pages, the cool novella punches above its weight, a tightly spun tale that touches on the vagaries of history, migration, and national identity, while also addressing the latest personal developments in the life of Captain Benny Griessel. Even in this briefer-than-usual format, Meyer's dexterous, wide-ranging storytelling abilities shine: a London-based American art expert, a retired South African historian, a Cape Town fencer of stolen goods, and the possible discovery of a long-lost painting by Carel Fabritius – he of The Goldfinch and Donna Tartt literary fame – are just a few of the elements enlivening this tidy gem of a thriller.
The welcome return of Jackson Brodie in Big Sky by Kate Atkinson (Little, Brown), sees the canny private investigator – "a coincidence is just an explanation waiting to happen" – flitting about the more stunningly beautiful bits of Yorkshire with a sociable Labrador and Brodie's less-sociable son in tow. As for this tome's coincidences, one of them involves the just-as-welcome return of Reggie Chase, an engaging figure from Brodie's past, while the other characters have more nefarious tendencies. A seasoned master of the literary juggling act, Atkinson takes gleeful pleasure in orchestrating the multiple complex mysteries – intimately personal, darkly criminal – so that they bump beguilingly up against each other.
The mean and far-flung streets of New York provide an atmospheric setting for Hilary Davidson's One Small Sacrifice (Thomas & Mercer). From the dank innards of ancient downtown subway stations to the bucolic, leafy settings of the residential North Bronx, from Hell's Kitchen to the sterile medical complexes of the Upper East Side, the various urban locations resonate as detective Sheryn Sterling and her new partner Rafael Mendoza navigate a case with history to it: Sterling has investigated war photographer Alex Traynor previously; now his fiancée and sometime Doctor-Without-Borders volunteer Emily Teare has gone missing. Davidson's stealthily plotted, rapidly deployed, multi-stranded mystery encompasses the most intimate of brutalities – including domestic abuse and post-battlefield PTSD, a solid handful of dodgy characters, and, in the most humane of touches, a dog named Sid.
Anna is the wife of a rich Glaswegian lawyer and the mother of two adorable daughters. She's also book-and-podcast obsessed, partially as a way to distance herself from an unhappy marriage and self-doubt. But one catastrophic day, Anna gets two nasty surprises: listening to a true-crime podcast, she learns of the death of someone from her past, and, in quick succession, her husband announces that he's leaving her for her best friend. From there, things spiral impressively out of control – and not just because Anna is forced to go on the lam with her best friend's spurned husband, Fin. The reading adventure that is Denise Mina's Conviction (Mulholland), races at breakneck speed across Scotland to a luxurious castle, over the Channel to a damp bedsit in Venice, and along the train tracks of Europe, corralling a tantalizing bevy of characters – goodies, as well as ultra-villains – with every twist and revelation. Cleverly framed around one of our hottest cultural formats, Conviction, at its heart, is a terrific, old-fashioned thriller that keeps you pleasurably guessing every step of the way, and marks Mina at the top of her game (so far!).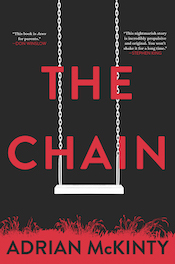 If the title of Adrian McKinty's new standalone psychological thriller, The Chain (Mulholland), makes you think of those annoying-if-innocent chain letters of your youth, you'd not be far wrong. The reality, in this case however, is far, far scarier. In McKinty's devilishly capable hands, the penalties and payoffs for not participating in the eponymous chain are very much life-and-death: parents are being targeted not just by having their children kidnapped; they are then then informed that, in order to get their offspring back, they must kidnap someone else's child, and so on and so forth. Terrified yet? Then consider the reaction of Rachel O'Neill, cancer survivor and all-round super-focused mom, when she learns that her daughter's been kidnapped. McKinty, a terrific creator of characters when it comes to people under pressure – consider Sean Duffy, his maverick Northern Irish detective who polices Belfast during the Troubles – has struck new thriller gold with Rachel, an ordinary woman whose side you won't be able to leave as she fights, tooth, nail, and whip-smart brain, with some of the creepiest baddies to rival those on both sides of Don Winslow's The Border.
One of the current obvious outcomes of high-level capitalism come home to roost in The Farm, a chilling debut by Joanne Ramos (Random House), in which a group of pregnant women are groomed (and groomed!), cossetted in Golden Oaks, a dream of a rural "gestational retreat." The expectant mothers are surrogates – their babies, if brought to term, will never be their own – who've been promised excellent compensation for their nine-month commitment. If they behave, that is. Golden Oaks, you see, is just one arm of a sprawling company called Holloway, purveyor of upscale clubs, yacht and private-jet management companies, and other once-luxury, now-basic life requirements for the ever-burgeoning one percent. Ramos' success here is in giving living, breathing shape to everyone's story, from the vulnerable women doing whatever they can to survive and feed their families, to the handful of puppet-masters who live high on the hog and shelter themselves behind deceptions and lies.
The Quintessential Interview: Neal Stephenson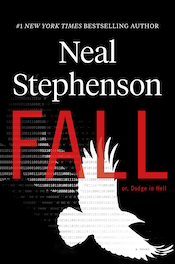 Neal Stephenson's Fall, or Dodge in Hell (William Morrow), is a glorious, sprawling, adventurous read – a 900-page page-turner, if you will – which takes artificial intelligence, the gamification of reality, digital uploads, and cloud-storage conceits to their potential outer-spatial conclusions, while making room for a chilling vision of a truth-free America, a spectacularly detailed creation-and-mythology story, and, yes, a good old-fashioned quest.
When Richard "Dodge" Forthrast, billionaire and tech-head extraordinaire, dies during a medical procedure, his family have to grapple with a health directive that includes preserving his brain for a future time when it can be re-booted, so to speak. As his family, colleagues, and frenemies work to honor – or, at times, exploit – his request, Stephenson's narrative flows between his Earth-bound characters and those existing in a virtual universe. It's a startling feat of literary wizardry, packed with salient satire and frequent punctuations of comic relief ("The hero who falls because of a cramp in his hamstring is not sung of…."), and threaded through with the indestructible bond of love between an uncle and his niece.
What or who are your top five writing inspirations?
Excellent prose stylists: Edward Gibbon. Charles Dickens. Winston Churchill. Peter Fleming. Rebecca West
Top five places to write?
My office. My office. My office. My office. My office.
Top five favorite authors?
Matt Ruff. Austin Grossman. Charles Mann. Joe Abercrombie. Nicole Galland.
Top five tunes to write to?
I don't know because I use Pandora playlists! The one I've been listening to most of late is based on Groove Armada.
Top five hometown spots?
Machine House Brewery. Hazard Factory.  Jules Maes. SANCA. Raconteur