Every month, Daneet Steffens uncovers the latest goings on in mystery, suspense, and crime fiction. See previous columns on the Criminal Fiction archive page
X Marks the Calendar Spot
Steve Cavanagh, whose Thirteen just won the Theakston Old Peculier Crime Novel of the Year, will be visiting Seattle on August 20 to discuss his award-winning novel.
And a little further north, Louise Penny is Booked at the Baker in Bellingham on August 30 with her latest Chief Inspector Armand Gamache mystery, A Better Man.
Reading around: new titles on the crime fiction scene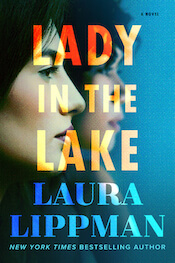 In Laura Lippman's Lady in the Lake (William Morrow), suburban housewife Maddie Schwartz decides to leave her marriage, forge out on her own, and create a new career path for herself at a local newspaper in mid-1960s Baltimore. Two corpses later, she's sleuthing her way, incrementally, to a reporting spot, but this is by no means just her story. The narrative, reminiscent of Edgar Lee Masters' Spoon River Anthology and Dylan Thomas' Under Milk Wood, unfolds through a chorus of the city's voices – cops, waitresses, columnists, baseball players, bartenders, kids – delving into the hopes, ambitions and sometimes shattered dreams of its inhabitants, and throwing society's structured racism, sexism, and political corruption into stark relief. But Maddie's determined digging also brings to vivid life the inner workings of a metropolitan newsroom, as well as the compassion, focus, and curiosity that drive excellent journalism. Mesmerizing, compelling, and utterly humane, Lippman's latest is also movingly bookended with the names of the Capital-Gazette journalists murdered in Annapolis, Maryland, on June 28, 2018: Rob Hiaasen, Gerald Fischman, John McNamara, Rebecca Smith, Wendi Winters.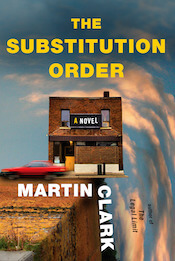 Kevin Moore, once a highly respected lawyer – 'The Courtroom's Clooney,' no less – is slinging luncheon meat in the aptly named SUBstitution fast-food joint, temporarily disbarred and on probation for drug use, in The Substitution Order by Martin Clark (Knopf). Then, a palpably villainous dude slinks into his life, a "chubby Draco Malfoy sans the Slytherin blazer," as one colleague puts it, and Moore's life goes from bad to worse. (Or, as his best buddy puts it accurately and succinctly, Moore racks up "an accumulation of unwelcome shit…."). Clark's trademark witty prose and mind-bending legal plotting get a welcome workout in this engaging thriller in which blackmail, financial derring-do, technical wizardry, a canny bit of pet training, and a bucolic rural Virginia setting converge in a pleasurably heady mixture.
It's murder by wine bottle – and a very expensive one, at that – in Anthony Horowitz' second PI Daniel Hawthorne investigation, The Sentence Is Death (Harper). Hawthorne is aided, abetted, sometimes unknowingly undermined, but never outdone by his sidekick Anthony Horowitz – yes, you read that correctly – who is meant to be recording Hawthorne's true-crime adventures for posterity. In between polishing scripts for his TV series Foyle's War and getting gently snubbed for his commercial-rather-than-literary career choices – everyone gets the proper name of Horowitz' Alex Rider series wrong – the not-so-fictional Horowitz does indeed scribble his copious notes on Hawthorne's progress, as the real-life author pokes loving fun at Golden Age detective novels while cunningly crafting one of his own.
Across the Void (Skybound Books/Atria), S.K. Vaughn's space-based, future-set, camera-ready thriller kicks off with Commander May Knox emerging from a medically induced coma on the Stephen Hawking II, a NASA research vessel. What knocked her out? And what happened to her crew? As Knox struggles to repair her disintegrating ship, engineers back home — including her estranged husband — work to re-open communication with her; once that channel is established, however, even more hell breaks loose. Vaughn, no slouch when it comes to thrills-a-minute rides — as Shane Kuhn, he's authored The Intern's Handbook, The Asset, and Hostile Takeover — peppers his narrative with entertaining tips-of-the-hat to multiple thriller-focused elements, from James Bond and Die Hard, to 2001: A Space Odyssey and The Abyss. Galactical pyrotechnics aside, the story is propelled by very — for now, at least — Earth-bound concepts: the horrifying corruptibility of power, the interfacing of humans and artificial intelligence, and, of course, the indisputable power of love.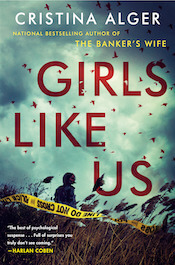 In Girls Like Us by Cristina Alger (Putnam), FBI profiler Nell Flynn returns home to Suffolk Country, Long Island, to mourn her father's death with his police-department colleagues, to scatter his ashes, and to settle what's left of his estate. And, having left a decade earlier without a backward glance, Nell is eager to complete the practicalities and get the hell out of Dodge. But when her father's former partner on the homicide team involves her in the recent local murder of a young Latina, Nell finds herself tangling with sharp-eyed reporters, questionable investigative processes, and a truly timely, ripped-from-the-headlines tale of exploitation, abuse, and corruption. Tautly wound police-procedural-thriller aside, Alger's novel is a smart, searing indictment of just one of the many contemporary examples of the haves vs. the have-nots.
The Quintessential Interview: Kate Mosse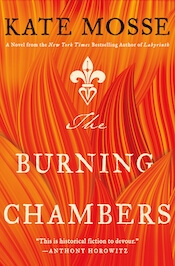 With her Languedoc trilogy – Labyrinth, Sepulchre, and Citadel – Mosse limned that region's rich history, melding narratives of contemporary characters with those of medieval, 19th, and 20th Century France into vibrant time-slip thrillers. The Burning Chambers (Minotaur) is the electrifying start of a new series which follows the diaspora of the Huguenots from France to new homes in London's East End, Amsterdam and South Africa. The first novel, while set firmly in 16th Century France during the Wars of Religion which pitted French Protestants against French Catholics, palpably echoes our own timeframe – the propaganda machines, the language, the intolerance, the resistance to losing long-held power and privilege – a potent literary reminder that history is not the past.
Mosse is also the co-founder of the Women's Prize for Fiction, one of literature's most prestigious and high-profile recognitions.
What or who are your top five writing inspirations?
The most significant character in all of my fiction is landscape. So, I walk in the footsteps of the great writers of the past who put the spirit of place at the heart of their storytelling: novelists Emily Brontë, Willa Cather, and Edith Wharton, poet T.S. Eliot – Four Quartets remains the sequence of poetry that means the most to me – and Ian Rankin's Rebus novels, where Edinburgh just leaps off the page.
Top five places to write?
After years of research and preparation, when I sit down to write a first draft of a new novel I always take myself off to an anonymous hotel (usually in the Canary Islands!). There, I can dream and think, be utterly removed from my everyday life, just spend time getting to know my characters. After that, it is Carcassonne all the way – all my historical-fiction novels are love letters to that city in southwest France – as well as my study at home in England, Chichester in West Sussex. The second novel in my 'Burning Chambers Quartet' is set mostly in Amsterdam, a city I love and am inspired by. Finally, New York: there, that timeless running together of days and nights is great for writers like me who work mostly in the very (very!) early morning….
Top five favorite authors?
See answer 1 - and add to the mix Agatha Christie, Madeline Miller, Guy de Maupassant, the multiple authors of The Bible, and Emily Dickinson.
Top five tunes to write to?
I write in silence...I need to hear the whispering of my characters and the stories of the past, so music would drown that out.
Top five hometown spots?
For 30 years, Chez Félix in the Bastide of Carcassonne and the Café Trouvère in the heart of the medieval citadel; the Bishop's Palace Gardens by Chichester Cathedral, nearly 50 years spent thinking and wandering those pathways; in the Cafe Hoppe on the corner of Spui in Amsterdam, next to the extraordinary former convent of Begijnhof behind the grand canals; and the iconic bookshop, Shakespeare and Company, on the Left Bank in Paris overlooking the mighty flying buttresses of Notre Dame.