Every week we ask an interesting figure what they're digging into. Have ideas who we should reach out to? Let it fly: info@seattlereviewofbooks.com. Want to read more? Check out the archives.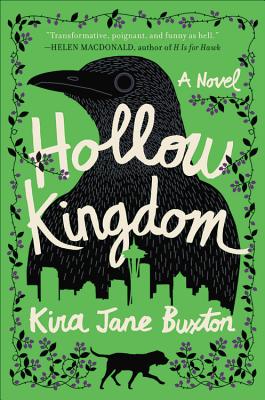 Kira Jane Buxton is a Seattle-based writer whose debut novel, Hollow Kingdom is being released on August 6th. Her writing has appeared in the New York Times, NewYorker.com, McSweeneys, and many others. Join Kira for the Hollow Kingdom launch, August 6th at the Lake Forest Park Third Place Books, at 7pm. Also, she'll be appearing in conversation during Oyinkan Braithwaite's visit, August 2nd at the Elliott Bay Book Company starting at 7pm, where a copy of Hollow Kingdom will be raffled off.

What are you reading now?
I'm currently reading Timothy; Or Notes On An Abject Reptile by Verlyn Klinkenborg which has been on my TBR list for years. It's a novel narrated by a tortoise who lived in the 18th Century English garden of the naturalist Gilbert White. It moves at a refreshing and appropriate pace for a tortoise-narrated novel, and I'm thoroughly enjoying the existential perspective of a philosophical female tortoise named Timothy because we humans hadn't figured out how to properly sex a tortoise back then. Timothy has many erudite and profound musings about humanity and I'm loving this novel's poetic celebration of the natural world.
What did you read last?
I was lucky enough to receive an advanced reader copy of The Ten Thousand Doors of January, which is an utterly enchanting debut fantasy novel by Alix E Harrow. It's the story of a girl named January Scaller who lives as the ward of the wealthy Mr. Locke in a museum masquerading as a mansion of unusual artifacts. January finds a mysterious book that tells a strange and wondrous story and leads her to other worlds through magical doors. Alix E. Harrow writes beautifully and as I read it, I felt a Narnia-esque sense of wonder. It's quite lovely
What are you reading next?
I am deciding between two delicious reads (the story of my life). One is Bunny by Mona Awad, which I have been very impatiently waiting for. It's been described as "The Secret History meets Heathers with a dash of Mean Girls." I'm ready for this satirical fever dream. The second is Underland by Robert MacFarlane, an exploration of our earth's subterranean spaces through an environmental lens. I love a conflation of nature writing and poetry. I read nonfiction about the natural world voraciously and have become particularly obsessed with reading about moss because of the wonderful writing of Robin Wall Kimmerer, and of mushrooms through mycologist and author Paul Stamet's work (naturally, I am the life of the party).