(Once in a while, we take a new book out to lunch and give it half an hour or so to grab our attention. Lunch Date is our comment on that speed-dating experience.)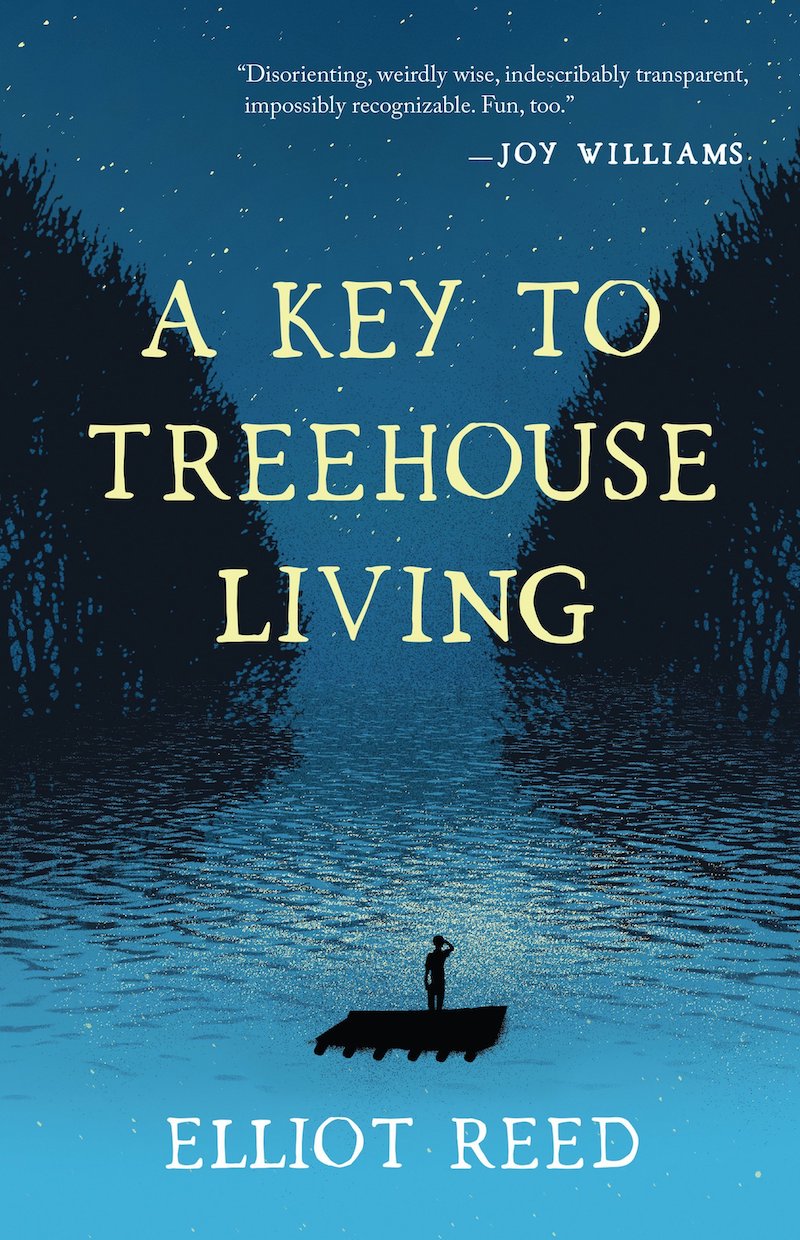 Who's your date today?
A Key to Treehouse Living, a novel by Elliot Reed.
Where'd you go?
Never good at the principles of successful dating, I offered Treehouse Living the Saturday equivalent of a sad desk lunch. We went to Fremont Brewing and found a corner seat where we could hide from the crowds, if "hide" means "sit in the middle of a seething mass of drunk-by-noon humanity."
What'd you eat?
We paired a tomato and parmesan croissant from Sea Wolf Bakery with a Dark Star imperial stout. Actually, it was half a croissant left over from brunch, which made 1.5 croissants total for the day.
How was the food?
Excellent. Sea Wolf Bakery is a working bakery that supplies bread to every restaurant you can't afford, so they don't mess around. Today they sold the last nectarine croissant right before I got the register. Sad! But their savory croissant at the moment is lightly roasted tomatoes sandwiched between herbs and finely grated parmesan cheese. Sweet, salty, fresh, and the kind of buttery layers that'd make Paul Hollywood blush.
As for the stout — you could put Dark Star in a ring with every piss-colored IPA in Seattle, and Dark Star would still walk out untouched
What does your date say about itself?
From the publisher's promotional copy:
A Key to Treehouse Living is the adventure of William Tyce, a boy without parents, who grows up near a river in the rural Midwest. In a glossary-style list, he imparts his particular wisdom on subjects ranging from ASPHALT PATHS, BETTA FISH, and MULLET to MORTAL BETRAYAL, NIHILISM, and REVELATION. His improbable quest ― to create a reference volume specific to his existence ― takes him on a journey down the river by raft (see MYSTICAL VISION, see NAVIGATING BIG RIVERS BY NIGHT). He seeks to discover how his mother died (see ABSENCE) and find reasons for his father's disappearance (see UNCERTAINTY, see VANITY). But as he goes about defining his changing world, all kinds of extraordinary and wonderful things happen to him.

Unlocking an earnest, clear-eyed way of thinking that might change your own, A Key to Treehouse Living is a story about keeping your own record straight and living life by a different code.
It seems unlikely that Treehouse Living would describe itself in any such way, but publishers do what they have to do.
Is there a representative quote?
Sure, let's try something from CAMPFIRE: "A fire built outside. Thisis very important: you build a campfire outside, never in. It may be cold in the treehouse, and you may build a fire in there to stay warm, but believe me, you will regret it."
Will you two end up in bed together?
Yes. This book and I have been meaning to meet up for a while now, and I'm glad we finally got together. I'm addicted to the format — every glossary entry is a small story, and there're hints at something bigger and sadder that are perfect date fodder. Who can resist the sad, mysterious ones? I hope that the "real" storyline doesn't dominate, though, because a lot of the charm is the way the book wanders. Hints at William's losses and gains aren't any more or less important thanhis observations about how good puppies are at bonding or the real difference between balloon dogs and balloon giraffes. As a date, Treehouse Living knows how to connect without taking over the conversation, and I'd buy it a beer again any time.