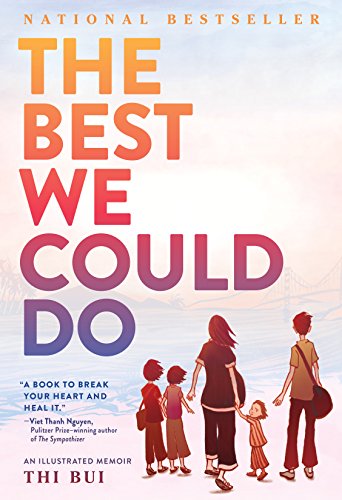 At last night's Reading Through It Book Club, several members admitted that the selection, Thi Bui's memoir The Best We Could Do, was the first full-length comic they've ever read. That's a pretty steep learning curve to expect from a reader: Bui is a brilliant cartoonist who employs a wide array of comics techniques to tell the story of her family's flight from Vietnam to America. It's kind of the equivalent of expecting someone to jump directly from the first Harry Potter book into William Gass's The Tunnel.
But these novice comics readers more than handled the challenge. Most members of the book club enjoyed Best and found Bui's family history to be engaging and more than a little heartbreaking. We could have spent the whole hour discussing technical details, such as the way Bui masterfully employed the black-and-white book's single color — an orange whose many shades evoked a number of story elements including carrot juice and the red soil of Vietnam. And several people found new levels of enjoyment from those discussions.
But there's so much more to discuss. By zipping forward and backward in time, Bui illustrates the true cost of intergenerational trauma that all refugee families have to pay. Bui's new baby hasn't experienced the Vietnam War or the heartbreak of losing everything to start over in the United States, but those factors will still play a huge role in the child's life. No generation is ever truly free of the hardships delivered on the generations before.
I wrote at length about The Best We Could Do a few months ago, when it was selected as the Seattle Reads book. But reading it in the context of our current-events book club, which aligns the story of Bui's family against the concentration camps along the southern border of the country today, casts the book in a different light.
I couldn't help but wonder as I read The Best We Could Do for a second time what kind of memoirs future readers would be reading twenty years from now. How will those books cast those of us who called ourselves Americans? What color will the cartoonist choose to stain the pages? What are the tragedies unfolding now that future generations will carry?