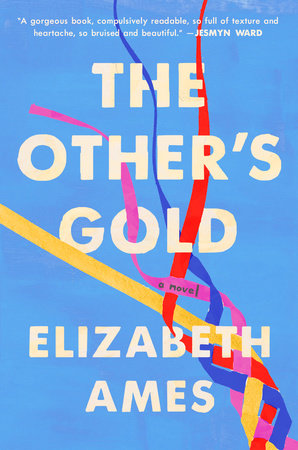 Elizabeth Ames's debut novel, The Other's Gold will be released next Tuesday. The book follows a group of four college friends into young adulthood and through the rituals that accompany that transition — marriage, motherhood, careers.
Each of the four women carries a secret that affects the course of their lives — individually and together — in profound ways. Ames has a gift for spinning beautiful sentences together, and The Other's Gold is deeply structurally considered. That structure is important; while many literary novels collapse under the weight of their own aimlessness, The Other's Gold's carefully considered structure keeps the reader intently focused on the characters and its many revelations.
Ames, a former Seattleite who worked with me at Elliott Bay Book Company and took part in a long-running writing group with myself and Seattle Review of Books founding columnist Cienna Madrid, joined me on the phone to talk about The Other's Gold and her time in Seattle.
Though Ames agrees with my assessment that structure is vital to The Other's Gold's success as a book, she says the story "definitely emerged from the characters, as everything does for me." But the structure helped her "map the events of the book so that I could just do what I really love to do, which is just be with and write about characters and people."
That affection for the characters really shows off on the page: Ames writes about friendships between women with a clear eye and an ear for honesty. "I've been observing women forever," she says. "I love women. I am one. I'm really interested in the intensity of their friendships and the roles they play in one anothers' lives over time."
"I have really deep friendships with men," Ames says. "But there's something special about the friendship between women during this stage of life — college through early parenthood, that time of life where you're making so many decisions about who you are and how you want to live."
"I had just had a new baby when I started working on this book," Ames adds, "and so I was really woman-facing in that way too."
Ames, who spent her formative years in the midwest, stops mid-answer to reflect on how odd the whole experience of being interviewed is. This is her first phone interview for The Other's Gold, and it's taking a little bit of energy to get into the right headspace. "It's so hard to talk about my own work because I'm so constitutionally averse to like anything that sounds like boasting." She tries to put on a smug character — "Good job, me!" — before cracking up.
There's no Seattle stop on Ames's debut book tour yet, but she hopes to read at Elliott Bay Book Company for The Other's Gold sometime soon. She worked there from 2005 to 2009, and she still reflects on her time there as vitally important in her life with literature. "I still remember being so intimidated — even before applying, I just loved the store. I was so desperate to spend more time there."
Fresh out of graduate school, Ames found the experience at Elliott Bay to be exactly what she needed. "It was so fun to work with other lovers of books. They always have something to talk about because they've always read so much. You'll have personality differences with your coworkers, but you all have in common this fundamental huge thing that you love."
"I also got to go to readings there and meet writers," Ames says. The experience taught her a lot about what it meant to be a writer in the world. "I was recently talking about Kelly Link coming in to the store to sign and how I was just so gushy with her at the register. I was in total fan girl mode, but she was so warm and kind."
Ames left Elliott Bay for a job at Seattle Arts and Lectures, and that only increased her respect for books and book-lovers. "[SAL curator] Rebecca [Hoogs] is still one of my closest friends, and sitting next to her was a total dream. She's got this big brain I just can't get enough of," Ames laughs.
At SAL, "I got to work with Writers in the Schools. It was really interesting to see the other side of writers' lives on the road — outside of the glamour of huge lectures at Benaroya Hall, there's this other, smaller, intimate classroom visit," in which famous authors share their love of literature with local schoolchildren.
"I chose jobs that kept putting me in touch with the most wonderful people — a bookstore, a literary arts nonprofit," Ames says of her time in Seattle. "I chose pretty well in terms of how to spend time with people who are motivated by a love of reading and books. I couldn't have been luckier in that regard."