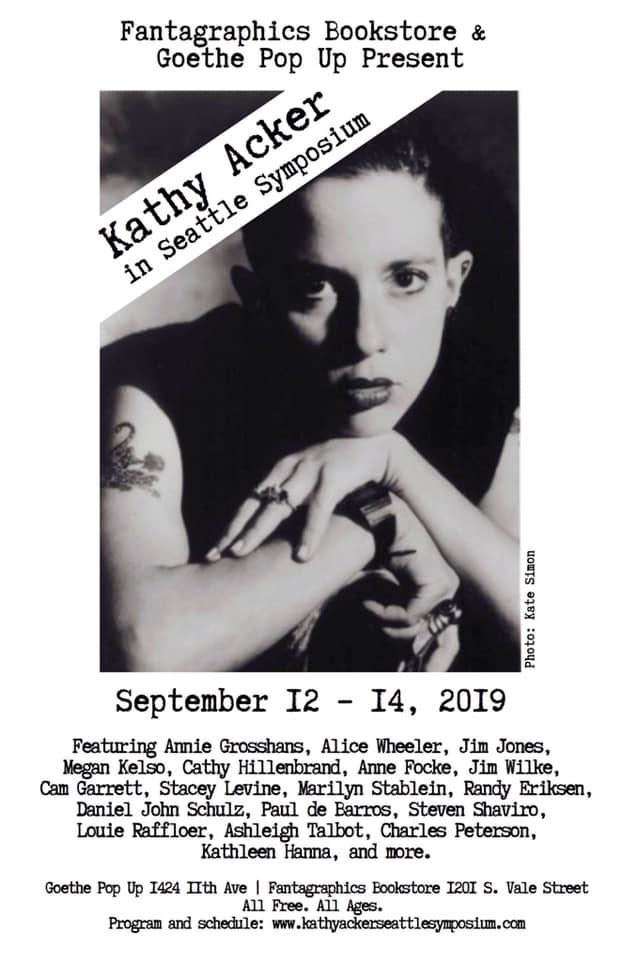 From September 12th to the 14th, the Goethe Pop Up in Chophouse Row on Capitol Hill will team up with Fantagraphics Books in Georgetown to host a free symposium to celebrate the life and work of iconic feminist novelist Kathy Acker. Acker is generally associated with New York City, but she enjoyed two residencies in Seattle that tremendously influenced both Acker and our city. The Kathy Acker in Seattle Symposium will serve as a celebration and a recontextualization of Acker's work, as well as an attempt to establish a record of her time in Seattle.
"I met Kathy Acker in 1980," Symposium Curator Larry Reid tells me over the phone. Reid, who has been a pillar of the local art scene for over forty years and now works as a manager at Fantagraphics Bookstore & Gallery, says Acker's two Seattle residencies helped to put the city on the map.
The NYC-based experimental novelist's first visit to Seattle in 1980 — she lived here for "six to eight months" at the time, Reid figures, was because "she'd recently been divorced and I recall that she wanted to get a fresh start" — was a momentous one. At the time, Acker was putting the finishing touches on her seminal novel Blood and Guts in High School and beginning Great Expectations, which many consider to be her best book, and Seattle had an art scene that was just waiting to clamber on the global stage.
"In 1980, Seattle was pretty much a provincial fishing village where we built airplanes," Reid says. He was involved in the tiny local experimental art scene here — it was largely centered around the And/Or Gallery on Capitol Hill — but Acker's arrival signaled the city's coming expansion.
Though she was on the verge of being discovered by the mainstream at that time in her life, Acker was already "well-known in the counter-culture and in experimental literary circles," Reid explains. She had self-published and self-distributed a number of chapbooks — kind of a precursor to zines — and was known for bringing a punk rock flair to the confessional writing popularized by the Beats in the 1950s and 60s.
"To us," Reid says, Acker's presence in 1980s Seattle "was a pretty big deal. This punk-rock New Yorker with a shaved head coming to town felt like validation in some respects and it gave momentum to younger artists"
"We were all very enamored with her and she had these romantic associations with New York," Reid says. "I think it was a really formative period for Kathy. She complained about Seattle being so remote and said there was nothing to do, but as a writer that sort of isolation serves creativity."
Acker returned to Seattle in 1988, at the height of her popularity, for a brief visit that included a huge reading at New City Theatre, a venue in the former funeral home that would later become Hugo House's first home. Acker's second visit elevated two women who would come to shape the world's perception of our region: Seattle author Stacey Levine and Olympia musician Kathleen Hanna.
"Kathleen was not known then," Reid says. Hanna credits opening for Acker as "inspiring her to form Bikini Kill," the feminist punk band that paved the way for what would become Seattle's grunge scene. Without Acker, Reid asks, "do we know if Sleater-Kinney would've happened without Bikini Kill — or Portlandia, or you know, any of that?"
Levine became one of Seattle's greatest literary talents, a wholly original talent who composes beautiful fairy tales that dance to some monstrous unconscious rhythms. Her work simmers with some of the same heat of Acker's fiction.
For a certain generation that came of age in the late 1990s, myself included, Acker is a foundational talent — an author who means as much as William S. Burroughs did for the generation before. Acker shares some qualities with Burroughs — a proclivity for nonlinear storytelling, an eagerness to push the idea of narrative beyond its breaking point — but there's a rage and a humanity underlaying all her work that I could never find in Burroughs.
But while Burroughs is still read and half-understood by young white boys with literary aspirations, Acker seems to be fading into history.
That's where next week's Symposium comes in. Featuring dozens of contributors including Hanna, Levine, cartoonist Megan Kelso, poet Marilyn Stablein, author Paul de Barros, and bookseller Gary Wilkie, the Kathy Acker in Seattle Symposium is a mixture of exhibitions, panels, readings, and reminiscences intended to identify Acker's impact on Seattle, and vice versa.
Of course, Acker herself wouldn't be happy with a calm and academic dissection of her work. That won't be a problem here. Reid warns that a number of opinionated Acker fans are going to be in attendance, and there will be plenty of opportunities to gather at the Comet Tavern and at the Fantagraphics Store in Georgetown to "informally discuss whatever issues arose in the panels." Reid says "I'm sure that conflicts will happen, based on my initial research. Maybe some beer will smooth things over, but everybody's not gonna agree on everything."
Reid has spent about two years organizing this symposium, but he's quick to add that it's not planned down to the minute. "I haven't fully scripted a lot of this because I want it to feel organic," he insists. "From the meetings that I've had with the panelists, it feels like this is going to be phenomenally interesting."
Assembling the symposium has "been a really emotional process," Reid says. "I adored Kathy. We became close and stayed close right up until her death in the late nineties."
But despite the personal connections, "I want to avoid the suggestion that this is just an exercise in nostalgia," Reid insists. It's about looking closely at where we are and where we're going — as a city, as an art scene, and as a post-Acker literary community. Ultimately, he says, "we hope to look at the past as a way of informing the present and inspiring the future."