Once in a while, we take a new book out to lunch and give it half an hour or so to grab our attention. Lunch Date is our comment on that speed-dating experience.
Who's your date today?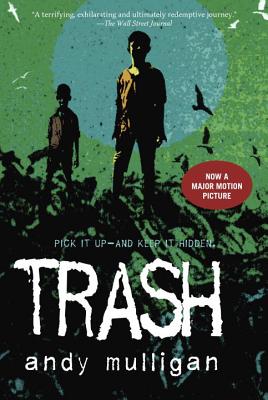 Trash, a YA novel by Andy Mulligan about poverty in a developing-country setting. I stay in the same room at Campbell's Lodge in Chelan every year; for the last three years, this book has been sitting on the desk, along with The Wedding, by Julie Garwood, and Too Long a Stranger, by Janette Oke. I was struck by someone's decision to put this particular novel out as a beach read at a resort frequented by often-drunk twenty-something men, newlyweds, and conventioneers. My own preconceptions, I guess, about what people want to read on vacation!
The guts of the story are that Raphael Fernandez, a boy-becoming-a-man who keeps himself and his family alive by picking through mounds of garbage for items he can sell, finds something different — a key that at first means money, and then something more. Raphael and his friends have a classic coming-of-age decision to make, except that in their world, they've never truly been children. Chaos ensues.
Where'd you go?
Local Myth Pizza, in downtown Chelan. Local Myth is one of a handful of restaurants and businesses that survive through and beyond the tourist season here. While all food is, essentially, some form of pizza, Local Myth makes pizza in its ur form, and they do it well.
What'd you eat?
I had a slice of the "pepp crunch," which has black olives, basil, and pre-crisped pepperoni — with an optional feta add-on, which of course I got.
How was the food?
Awesome. This is classic "unstyled" pizza: not deep dish, not Chicago, not New York, not Neapolitan, just good ol' standard crust piled high with toppings. The basil gives it a bit of freshness, the pepperoni a bit of crunch, the feta a bit of chew.
What does your date say about itself?
From the publisher's promotional copy:
In an unnamed Third World country, in the not-so-distant future, three "dumpsite boys" make a living picking through the mountains of garbage on the outskirts of a large city.

One unlucky-lucky day, Raphael finds something very special and very mysterious. So mysterious that he decides to keep it, even when the city police offer a handsome reward for its return. That decision brings with it terrifying consequences, and soon the dumpsite boys must use all of their cunning and courage to stay ahead of their pursuers. It's up to Raphael, Gardo, and Rat — boys who have no education, no parents, no homes, and no money — to solve the mystery and right a terrible wrong.

Andy Mulligan has written a powerful story about unthinkable poverty — and the kind of hope and determination that can transcend it. With twists and turns, unrelenting action, and deep, raw emotion, Trash is a heart-pounding, breath-holding novel.
Is there a representative quote?
This is Raphael, narrating his (first?) kidnapping by the police. Try reading this with the lens of today's immigration policies, then remember that this is a YA book.
I tried to keep still, like the man had told me to, but I couldn't. I was rocking backwards and forwards. All you can think about is how alone you are, and how anything can happen now. A little while ago, things had felt safe and ordinary — my auntie, Gardo, the cousins, the fire — and people, all around me. Now! It is like falling through a trapdoor. In a second, every single thing had changed, and you are falling — your friends cannot get to you, nobody knows where you are, and you think, So when do I stop falling? You think, What plan do they have for me that I can do nothing about?
Will you two end up in bed together?
This book and I have already spent long nights sleeping next to each other for three years running. Will we take the next step? No. Trash is competing for my attention against Mary Robinette Kowal's The Calculating Stars, and it just doesn't have the chops.
I'm intrigued to test Mulligan's 2010 book against 2019's understanding of the world — the world as a place where Donald Trump is elected to our highest office. And I'm intrigued to see how Trash does at speaking from the mind of boys/young men in a developing country, even a fictional, futuristic one. 2010 isn't that long ago, but the rules for talking about being poor, if that's not the life you're living, have changed a lot in the past decade.
I'm also curious about a book that was kicked off the shortlist for the Blue Peter awards because it hits too close to home. But after reading into it a bit, I'm not so sure the Blue Peter team was wrong for the reason's Mulligan's publicity team would claim. Trash makes a lot of social promises up front. My instinct, admittedly only 50 pages in, is that it fails to keep those promises. Raphael and Gardo and Rat are the usual suspects in a coming-of-age adventure — draped in a darker setting, but not something new, something truly transforming.
Should we expect a YA novel to do better? Yes. In this particular time, and maybe in all times, I think we should.