Every week we ask an interesting figure what they're digging into. Have ideas who we should reach out to? Let it fly: info@seattlereviewofbooks.com. Want to read more? Check out the archives.
Sarah Marshall is a journalist, writer, and vindicator of maligned women in the pop-culture landscape. She's one-half of the power duo (alongside Seattle journalist Michael Hobbes) that makes up the sensation that is You're Wrong About, a truly insightful podcast that unpacks media-driven pop-culture moments with compassion, humanity, and a lot of humor. (Seriously, I love this podcast, and with apologies for editorializing, think it's worth your time to listen to an episode or two and find out why the so many of the women our culture love to hate got a raw deal). We caught up with Sarah in Portland, her place-of-origin, but she never sits still long. You can follow her travels, interests, and the ongoing adventure of the world's most favorite fictional eighties television show, Teen Lawyer, on her Twitter.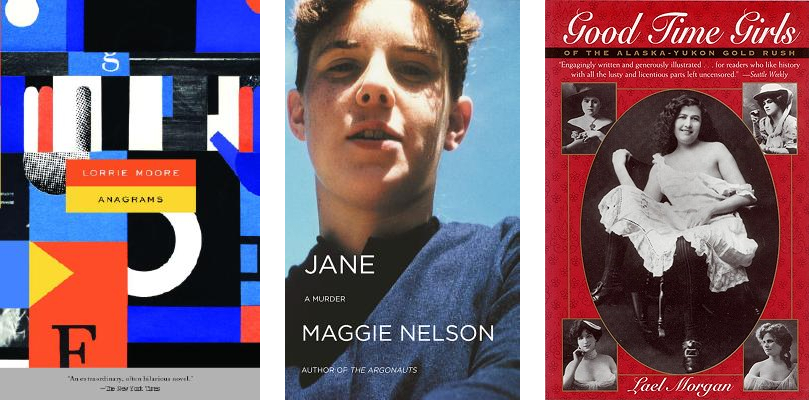 What are you reading now?
Anagrams by Lorrie Moore, Penguin, 1986.
Every fall I reread Anagrams, a weird little jewel box of a novel that, for me, works by not quite working: its characters express themselves in jokes and verbal sleight-of-hand, and experience the kind of glancing intimacies that are almost enough to keep them alive.
The book falls into five jagged pieces: five stories, one the length of a novella, each one about Benna and Gerard, the configurations of their lives a little different each time, and their fractured longing for each other always the same. It's an emotionally gutting book, but its sentences are confected with the nervy joy of a writer who, like her characters, makes life livable through language. "My idea in a love affair," Benna reflects, "is that if everyone makes enough declarations, one of hem is bound to come true. Words are interesting that way."
What did you read last?
Jane: A Murder by Maggie Nelson, Soft Skull Press, 2005.
I read Jane every couple of years, always in one sitting; there is no other book that is able to focus my attention this way, to make me feel like my own thoughts are approaching such diamond density, but that's because there is no book quite like this one. In it, Nelson tries to understand the life and afterlife of her maternal aunt, Jane, who was murdered before Nelson was born: "My face stares into hers," she writes of a newspaper photograph:
our thoughts frozen together
on the cusp of a wave
just starting to go white-cold, curl
and fall back into the spitting green.
When I started looking at Jane,
she was much older than me.
How strange her face seems now
enlarged on this grainy screen,
now that she will always be
only twenty-three.
Nelson wades into a genre fraught with the desires and anxieties that writers have always projected onto the lacunae of the dead, and especially of young female victims; this book continues to haunt me and hold me because of the space Nelson makes for her own uncertainty, and, through excerpted diary entries, for Jane's voice:
Everything I said or did, I said or did wrong

But all those joys, sorrows, and upsets
help you find yourself, help you build

a life of real value. Those upsets all contribute
to my character and what I'm going to be.
What are you reading next?
Good Time Girls of the Alaska-Yukon Gold Rush by Lael Morgan, Epicenter Press, 1998
I picked this book up in Alaska earlier this year, and have been saving it as a treat since reading part of it on the plane home. What drew me in to begin with was the chance — always a rare one — to connect with the lives of real women, and to the people who had made history possible, and for the most part have not been remembered for it. It's also a book that makes it easy to understand the draw of sex work in a world where it was all but impossible for a woman to get by on her own. About Cad Wilson, a "diminutive, brown-eyed redhead" who captivated Dawson City on her arrival there in 1898, despite being "no beauty," a prospector later recalled: "The fellows went mad when she was singing 'There'll Be a Hot Time in the Old Town Tonight.' That's when they really began throwing nuggets on the stage… She'd sing a while and then she'd look around and laugh. She used her dress for holding nuggets just like it was sort of an apron and she held it right high in front of her. Cad was smart. She'd gone up there like all the rest of us because she wanted to get all the gold she could."