Every month, Daneet Steffens uncovers the latest goings on in mystery, suspense, and crime fiction. See previous columns on the Criminal Fiction archive page
Reading around: new titles on the crime fiction scene
In late-1960s Glasgow, someone is killing women after picking them up at the popular Barrowland dancehall. Based on the infamous real-life mystery of the Bible John killings, Liam McIlvanney's The Quaker (Europa Editions) follows the chilling murder investigation, primarily from the point of view of one DI McCormack who's been brought in to review his colleagues' work on the case. The proverbial outsider – in more ways than one – McCormack has a keen eye and a willingness to think far outside the investigative box, especially when whiffs of police corruption arise. When his own pursuit of the unknown suspect intersects with a major jewelry heist, the stage is plausibly set for manhunts, red herrings, and explosive denouements galore. A beautifully crafted police procedural, The Quaker doesn't just locate its humanity in McCormack's personal story: McIlvanney's inclusion of the voices of the murdered women imbues the narrative with a quietly affecting, indelible sensation.
Erstwhile private investigator Pete Fernandez leaves another memorable mark on the city of Miami in Miami Midnight by Alex Segura (Polis). Still recovering from a near-fatal brush with violence – and still pining after Kathy who is now engaged to another – Pete is reluctant when a new customer comes calling, particularly as the customer is a high-profile city gangster. As we dive even further into Pete's chequered and deceptive past, the worlds of art, drugs, jazz clubs, and gambling intersect, and Pete finds himself, once again, immersed in a seemingly Sisyphean challenge to bring his world to right – and survive. As with Segura's previous novels in this series, terrifically telling musical, literary, pop-culture touches and details abound: I particularly enjoyed the not-so-mysterious femme fatale with a pleasingly sophisticated taste for thrillers.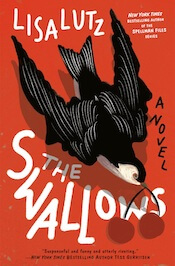 Something is definitely rotten on the campus of a New England prep school in The Swallows by Lisa Lutz (Ballantine). Alex Witt, the newest faculty recruit at Stonebridge Academy, thinks she's uncovered a super-secret society through her creative-writing assignments, something, perhaps, to do with an exclusive clique of popular students. Maybe it's just the usual clique-y cattiness? Nope, guess again. Shades of an early incarnation of a major social-media platform darken this novel in which rifts of sexism and corruption run like powerful fault-lines under the isolated campus and its supposedly sleepy Vermont town. In a tale that manages to be both scathing satire and also wholly realistic, Lutz elegantly renders a riveting cast of characters – students, faculty, protagonists, and all – within a "Holy cow! What's next?!" plot that just won't quit.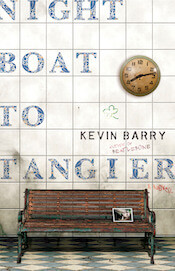 In Kevin Barry's Night Boat to Tangier (Doubleday), two aging, careworn Irish drug smugglers cosy up to the bar in a seedy Spanish port, hoping to locate a young woman – one of their daughters, in fact. Maurice Hearne and Charlie Redmond have worked and tangled with each other over a lifetime of lucrative criminal activities, crippling addictions, and broken hearts; now, they wait, on the lookout for Hearne's runaway daughter. As they wait, they mildly terrorize a young man who seems like he might know Hearne's daughter, and they talk. And talk. Barry's is a starkly descriptive tale that thrives on dialogue and shimmers with canny and cunning details: one suspenseful scene, for example, takes place in a late-night shebeen, aptly named the Judas Iscariot. A raw and riveting story that mines the tumultuousness of recent Irish history and the vagaries of organized crime – exposing the former's vulnerabilities, and throwing the latter's utter heartlessness into naked relief – Barry's immersive novel contains crimes-a-plenty, yes, but the narrative is pure poetry.
The Quintessential Interview: Attica Locke
It's the welcome return of Darren Mathews, Texas Ranger, in Attica Locke's Heaven, My Home, in which, during the turbulent aftermath of the 2016 election, a missing nine-year-old gets Mathews inextricably entangled in the history, politics, and racial schisms in Jefferson, Texas, and the nearby settlement of Hopetown: "…something had rooted [Darren's] boots in place, some bits in this story that didn't add up, that played like Russian nesting dolls – open one mystery and find another and another and another and another." Curious characters and unsavory suspects keep Darren on his toes in this twisted, teasing mystery, but the most salient voices in the book are the ones in Darren's head, those of his uncles, William and Clayton, whose different belief systems play themselves out in Darren's sometimes-conflicted heart and mind.
What or who are your top five writing inspirations?
Lightnin' Hopkins. My family. East Texas. Politics. Weird and/or broken people.
Top five places to write?
My office. My bed. The big yellow chair in my den. The armchair by the window in my living room. Pasadena Central Library.
Top five favorite authors?
Toni Morrison. Pete Dexter. Larry Brown. Jane Smiley. Curtis Sittenfeld.
Top five tunes to write to?
"Don't Ever Let Nobody Drag Your Spirit Down" – Eric Bibb. "Tom Moore Blues" – Lightnin' Hopkins. "You'll Never Walk Alone" – Aretha Franklin. "Bridge Over Troubled Water" – Aretha Franklin. "All Around You" – Sturgill Simpson.
Top five hometown spots?
Hermann Park. Half Price Books. Irma's. Whataburger. Project Row Houses.