Every week we ask an interesting figure what they're digging into. Have ideas who we should reach out to? Let it fly: info@seattlereviewofbooks.com. Want to read more? Check out the archives.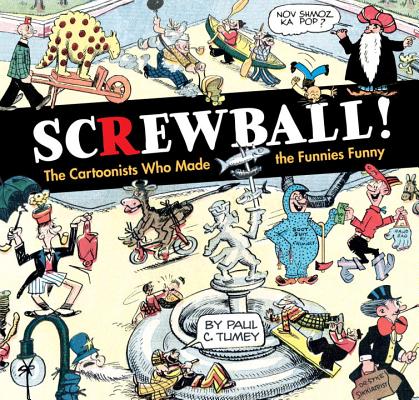 Paul C Tumey is a comic scholar, writer, and artist based out of Seattle. He's just released the epic Screwball! The Cartoonists Who Made the Funnies Funny, which looks at the "disruptive, manic, and surreal verbal-visual comedy" of the great comic artists who invented it — like George Herriman, Rube Goldberg, and EC Segar, just to name a few. You can see Paul in conversation with our own resident comic writer, Paul Constant, next Friday, October 18th, at the Elliott Bay Book Company.
What are you reading now?
I'm one of those people who reads several books at the same time and weaves from them an ongoing tapestry of interests, vicarious experiences, and knowledge. I don't want to hog space, so I'll just mention a few. The Catalogue of Shipwrecked Books: Christopher Columbus, His Son, and the Quest to Build the World's Greatest Library by Edward Wilson-Lee. This non-fiction book came out earlier this year. It tells the story of Hernando Colon, perhaps the most ambitious book collector in history who also happens to be the son of Christopher Columbus. One thing I love about this book is it reveals Hernando's efforts to assemble a vast collection of all printed materials, including broadsides, pamphlets and what we today call ephemera. If comic books had existed back then, he would have put them into his library. In the ephemera line, I am also reading Jay's Journal of Anomalies by the recently departed (or should I say vanished?) Ricky Jay, the great magician. This is a reprint of his fascinating and highly eccentric newsletter which shares arcane information and rare art about extraordinary people, animals, and machines taken from Jay's astounding archives. Another book I am totally absorbed in is Groucho, Harpo, Chico and Sometimes Zeppo by Joe Adamson, written in 1973. This lively book is the best and most fun biography of the Marx Brothers I have ever read. Writing Screwball! revealed fascinating connections between the humor comic strips and comedy films of the first half to the 20th Century and that set me off on a rewarding reading binge around the great early film comedians.
What did you read last?
I just finished the brand new Treasures Retold: The Lost Art of Alex Toth edited by Dean Mullaney. Toth was one of the greatest artists to work in comic books in the 20th Century. His understanding of how to craft a sequential visual narrative is unparalleled. This thick, oversized volume collects hundreds of pages of obscure, rare Toth comics which have been carefully curated and restored. It's really a giant, fun comic book. I also recently finished Roughing It by Mark Twain, one of the funniest books I have ever read. There's more than a little screwball humor in Twain's work — or at least the roots of what became screwball humor. I read the University of California edition, which includes the illustrations.
What are you reading next?
We've had some very promising looking new releases in comics and so I will be reading these next. At the top of my pile is Pittsburgh by Frank Santoro. His comics are few and far between and offer a truly singular reading experience, more like poetry than comics. Because he is more concerned with the underlying and secret power of visual storytelling, his work is less detailed but paradoxically more vivid. I understand Pittsburgh is his first autobiographical work. I am also excited to read the just-released The River at Night by Kevin Huizenga. Although this cartoonist has been around for years, I am just now discovering him. This book is a long, complex and tangential stream of consciousness narrative that takes place in the mind of his continuing character, Glen Ganges, over the course of one sleepless night. It seems very Joycian. I also plan to read Bill Schelly's recently updated memoir, Sense of Wonder. Bill just died unexpectedly. A Seattle-based writer and comics historian, he was a friend I wish I had gotten to know better. His biography of Harvey Kurtzman, published by Fantagraphics, is a masterpiece. Reading this memoir he left us will help me, I think, to accept that he has gone to the great comic book convention in the sky. That's something reading does magically well: connects us to those who have gone.