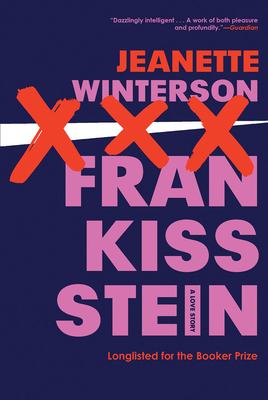 Jeanette Winterson is coming to Seattle for the first time since 2011. If you are unfamiliar with her work, it could be because, like many of her generation and orientation, she was often typed as being a lesbian writer, as if queer fiction and writing isn't for everybody. Her cogent, thoughtful, outsider explorations of gender and sexuality deserve a bigger audience in the United States, besides the one she's well-lauded for writing about the past 35 years. Her novels are rife with magical realism, science fiction, general weirdness, and wonderfully obdurate characters. They're often — usually — quite fun.
Jeanette Winterson's first novel, Oranges Are Not the Only Fruit, was released in 1985. Her twenty-eighth book, Frankissstein, was just released in the states (it's been out since May in Winterson's home of England). It's been longlisted for the Booker already, so if that goes well she can add it to her already long list of accomplishments, including an OBE.
My first encounter with Winterson's work was 1989's Sexing the Cherry, a book I read around the time of its publication, which was also about the same time I was introduced to Borges and to Angela Carter. Both of those writers show through Winterson's work. Early in Cherry, she writes:
"Every journey conceals another journey within its lines: the path not taken and the forgotten angle. These are the journeys I wish to record. Not the ones I made, but the ones I might have made, or perhaps did make in some other place or time."
Her new weird, and wonderful, book opens with Mary Shelley going for a naked walk around Lake Geneva in the rainy gloom — during the now-famous "Year Without a Summer", caused by the explosion of Mount Tabora. At this point in the narrative Shelley hadn't started writing Frankenstein, yet, but she's obviously ripe to:
"Here I am, in my inadequate skin, goose-fleshed and shivering. A poor specimen of a creature, with no nose of a dog, and no speed of a horse, and no wings like the invisible buzzards whose cries I hear above me like lost souls, and no fins or even a mermaid's tail for this wrung-out weather. I am not as well-found as that dormouse disappearing into a crack in the rock. I am a poor specimen of a creature, except that I can think."
On her walk, she sees something:
"A figure, gigantic, ragged, moving swiftly on the rocks above me, climbing away from me, his back turned to me, his movements sure, and at the same time hesitant, like a young dog whose paws are too big for him. I thought to call out but I confess I was afraid."
If naked Mary Shelley having a vision in the rain is your idea of a good start to a book, you're in for a treat.
But Frankissstein is more than the story of Shelley and writing the first science fiction book, it's the story of a trans doctor named Ry, who is falling in love with Victor Stein, an AI researcher, amidst the backwash of Brexit. And, of course, the story includes sex robots. And lots of romance.
Winterson featuring a trans character prominently in her new book is a political, and humanist, statement. In England the debate over trans acceptance and rights is absolutely bonkers, raging between trans-rights activists and many old-school feminists who have been labeled "trans-exclusionary radical feminists" or TERFs.
Winterson was asked about this in an interview recently:
"We don't know that if our world was genuinely inclusive and tolerant that there would be such agony, such body dysmorphia, such a need to find another gender. There should be more than two genders anyway, of course there should, it's daft. People don't always feel either that they are totally male or totally female, and we haven't done very well with that."
Winterson has been an out lesbian since she was 16 when her adoptive-mother gave her an ultimatum: stop seeing that girl you're seeing, or you'll have to leave the house. Winterson chose homelessness and being out over comfort, and told her mother that the girl made her happy.
"Why be happy when you can be normal?" was the reply. One way to understand Winterson is that she used that title for her autobiography. Which, incidentally, was the last book she toured to Seattle.
So come out and see her Wednesday at 7:00pm at the Central Library. Pick up a copy of Frankissstein, and get it signed. It's a rare treat to have Winterson in Seattle, we should make sure she's very welcome.