Every week we ask an interesting figure what they're digging into. Have ideas who we should reach out to? Let it fly: info@seattlereviewofbooks.com. Want to read more? Check out the archives.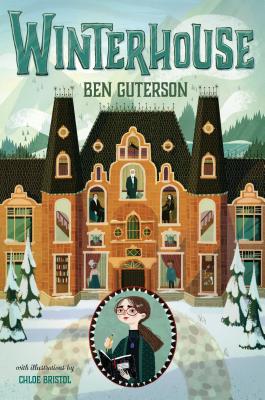 Ben Guterson just won a Washington State Book Award in the Middle Grade (ages 8 and up) category, for his book Winterhouse — the first book in the Winterhouse Trilogy . He's a Seattle native who spent ten years teaching public school on the Navajo reservation in New Mexico and rural Colorado before working at Program Manager at Microsoft. He lives in North Bend with this family. Congratulations, Ben!
What are you reading now?
I've been on a Plato kick for the past month-plus and am trying to make my way through the majority of his works — I'm on The Republic right now. My parents had the entire set of the Great Books of the Western World along a hallway in our home when I was a kid, and I was always drawn to the volumes. I've slogged through the collection's "Ten Year Reading Plan" a couple times over the years, but I'm not sure I've soaked up nearly as much I'd like, so now I'm trying to move through the books a little more conscientiously. This past summer I read Herodotus and Thucydides (the Landmark Books editions of both are fantastic); and now I'm on Plato, though I'm also reading some middle-grade books from the 1940s by Elizabeth Enright. I spend a lot of time with middle-grade novels, given the audience I write for, and it's a pleasure to read Enright's sincere and charming books. For contemporary middle-grade novels I like Trenton Lee Stewart, Jessica Townsend, and Colin Meloy, who moonlights as the frontman for The Decemberists.
What did you read last?
I read two bizarre novels at the end of summer — Remainder by Tom McCarthy, from 2005; and Your Face Tomorrow: Fever and Spear by Javier Marias, from 2007. I'm a big Marias fan and have been wanting to read the "Your Face Tomorrow" trilogy for some time, so I was glad to jump into the series' first book. Strange story, but most of his stuff is strange, I think, in interesting ways — dense with conceptual detours that see Marias pacing off about twenty steps more than I ever would have imagined, all absorbing. I'd heard about the McCarthy book for years — I once came across something where Zadie Smith said it was among the best of the decade, so that intrigued me. I found the story increasingly off-putting, though, as it progressed, despite its concern with matters I generally find of great interest in literature: authenticity, fabrication, and memory.
What are you reading next?
Operation Shylock by Philip Roth, and The Luminaries by Eleanor Catton. I like to work through the books of a given author in chronological fashion, and I've been moving through Roth's novels for the past half-decade by reading a handful each year. Roth, Bellow, Ishiguro, Graham Greene, Saramago, Marias, Nabokov, and Elana Ferrante are my favorite novelists, and I've tried to read most of their stuff. The Catton book, which won the Man Booker Prize in 2013, looks right up my alley — mysterious doings and lots of interwoven stories, from what I gather. I'm also about to tackle a little more Plato before attempting some Aristotle.