Every month, Daneet Steffens uncovers the latest goings on in mystery, suspense, and crime fiction. See previous columns on the Criminal Fiction archive page
Reading around: new titles on the crime fiction scene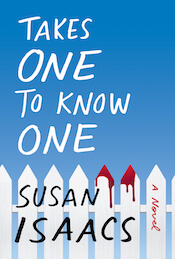 Former FBI Special Agent Corie Geller is chafing at the Long-Island-suburban-bit in Susan Isaacs' Takes One to Know One (Atlantic Monthly Press). Recently married to Mr. Seriously Perfect and happily mothering his teenage daughter Eliza, Corie loves her new life, and yet…. In an attempt to get out of her home-office a bit more — she reads reams of books in Arabic as a paid-for literary scout, as well as occasionally doing contract work for the FBI — Corie's joined a luncheon roundtable of fellow freelancers including a landscape artist, a packaging designer, a gardening expert, and a speechwriter. But the more she eyes up one of her lunch colleagues, the more she wonders about him; that wondering soon turns into a determined bit of sleuthing. Ably aided and abetted by her dad, a retired cop who spends his days streaming NYPD Blue, Bosch and Death in Paradise, and her best friend, the super-stylish Wynne, Corie follows her spidey sense down a compelling rabbit-hole of a mystery with seriously hot water at its base. Issacs, who kicked off her bestselling-author career in 1978 with the entertaining and entertainingly titled Compromising Positions, has not lost one whit of her wit, smarts, and tongue-in-cheek humor.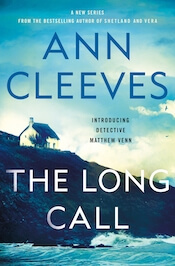 With The Long Call (Minotaur), Ann Cleeves departs from Vera's Northumberland and Jimmy Perez' Shetland for the rural communities, towns, and beaches of North Devon. Her new police procedural series features Detective Matthew Venn, who grew up in the area as part of a fundamental church community, and fled its claustrophobic embrace as soon as he could. But now, investigating crimes on his home patch, his childhood history and ties inevitably intrude into his current cases. His sergeant, Jen Rafferty, has historical baggage as well, but holds down her own as a single professional mum raising two kids.
The opening of Long Call is classic Cleeves: a body is found on the beach, marked only by stab wounds and an albatross tattoo. Dogwalkers, beachcombers, birding enthusiasts, and community-support workers populate the novel and add intriguing heft to a murder mystery that appears to involve an inclusive community center run by none other than Venn's husband, Jonathan. With this new series, Cleeves shines her authorial light on another striking part of the UK, showing off its landscape and locals to immersive effect.
The visceral visuals of the Alien films meet the sci-fi-comedy-horror of 2001's Evolution in screenwriter David Koepp's debut novel Cold Storage (Ecco). In 1987, a pair of wise-cracking military operatives are shipped to Australia to deal with some kind of anomalous, fast-growing organism. Some 30 years later, two storage-unit security guards — who meet-sort-of-cute on the job and get in a few wise-cracks of their own — discover that an ingenious fungus is definitely among us. One baby daddy, a passel of TV-obsessed bikers, and a storage-unit client later, the now retired military operatives find themselves in a race against time, battling what may possibly be the most horrific green goo ever. Start placing your casting bets now.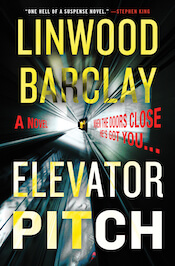 In Linwood Barclay's Elevator Pitch (William Morrow) something — or someone — is playing havoc with the elevators in New York City's finest high-rises. Starting with one terrifying Monday morning massacre through a nail-biting, corpse-accumulating week, a tenacious journalist, a besieged mayor's office, and a pair of detectives try to make sense of an escalating and frightening pattern of violence and mayhem in the Big Apple. Cannily bookended with the tantalizing promise of actual elevator pitches in elevators, this clever, pleasurably convoluted, and fast-paced thriller imbues each of its myriad characters with personal stories and emotional baggage aplenty. Barclay's latest will keep you turning its pages, guessing, second-guessing — and out of elevators for at least a week.
The Quintessential Interview: Nevada Barr
Nevada Barr authors the Anna Pigeon mysteries, a terrific series set to maximum effect in the stunning scapes of American national parks, from Yosemite and Glacier, to the Natchez Trace Parkway and the Cumberland Island National Seashore. Barr's latest, a standalone psychological thriller, has the same intricacies and engaging plotting that mark the Pigeon novels. But What Rose Forgot (Minotaur) leaves indelible traces of its own distinctive pleasure, infused as it is with Rose Dennis' mix of chutzpah and smarts. When Rose wakes up to find she's incarcerated in the Alzheimer's unit of a nursing home, it takes all her nous to figure out a) what the hell happened, b) how to save herself, and c) how to put things right. Great, rollicking fun, with the door left open for potentially more entertaining shenanigans from Ms. Dennis, a superslick mash-up of Emily Pollifax and – as one character notes – Chris Cagney. Barr lives mostly in New Orleans, and partly in Ashland, Oregon.
What or who are your top five writing inspirations?
This is a more complicated questions than one might think at first: Place inspires me, good writing, good art, good people inspire me. Bad writing, rotten art, and evil people really inspire me. Mostly it is the bizarre, hideous and wonderful antics our species gets up to at any given moment that inspire me.
Top five places to write?
Breakfast restaurants. My desk. Airplanes. The sofa. My bed.
Top five favorite authors?
Another tricky question. Mystery: Elizabeth Peters. Romance: Lisa Kleypas. Sci-Fi: Robert A. Heinlein. All others: Jane Austen.
Top five tunes to write to?
Old time gospel and Willie Nelson
Top five hometown spots?
Ashland's Shop'n Kart. Audubon Park, New Orleans. Lithia Park, Ashland. Panola Street Café, New Orleans. Greenleaf Restaurant, Ashland.