Every week we ask an interesting figure what they're digging into. Have ideas who we should reach out to? Let it fly: info@seattlereviewofbooks.com. Want to read more? Check out the archives.
Joy McCullough is the Seattle-based author of the young adult novel Blood Water Paint, for which she was just awarded the Washington State Book Award, and which was also long-listed for the National Book Award. The book is based on the life of Renaissance painter Artemisia Gentileschi, a gripping, tragic story of resilience and defiance against a brutal society deliberately designed to keep women oppressed. We are incredibly lucky that right now, in Seattle for the first time, you can see a Gentileschi painting in person at the Seattle Art Museum's exhibit Flesh & Blood, now showing through January. McCullough will also be appearing October 30th at the Gage Academy of Art on Capitol Hill in conjunction with a Masterpiece Lecture Series lecture focused on Gentileschi. Congratulations, Joy, on your recent accolades; we're so grateful for your work bringing Gentileschi to new audiences!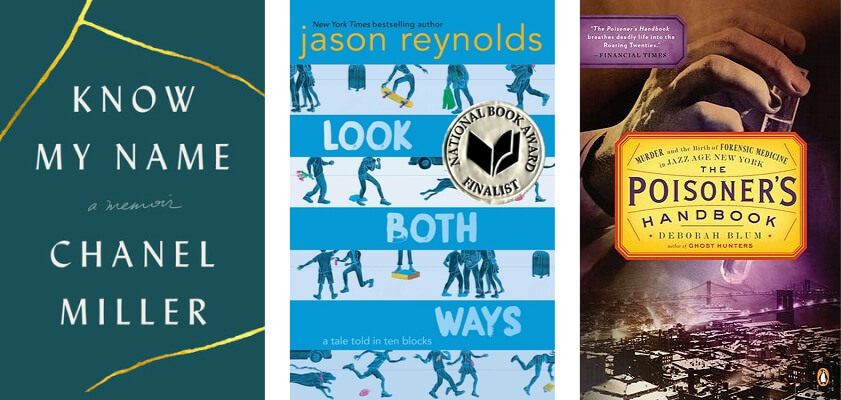 What are you reading now?
I just read Know My Name by Chanel Miller and it is an absolute must-read for anyone who is able to read it. (Trigger warning for sexual assault.) The survivor of the highly publicized Stanford rape case tells her story with devastating clarity. It is both heart-wrenching and hopeful and it tells the story not only of one horrific act of violence, but the broader story of being a woman in this world.
What did you read last?
I am currently reading The Poisoner's Handbook: Murder and the Birth of Forensic Medicine in Jazz Age New York by Deborah Blum. It's equal parts true crime and science history, set in a compelling, cinematic era. I don't read a lot of non-fiction, but this one is filled with so much intrigue and story that I'm really enjoying it.
What are you reading next?
Up next, I'm planning to read Look Both Ways by Jason Reynolds, one of our greatest authors of books for kids and teens. His latest is on the short list for the National Book Award for Young People's Literature. It's a collection of interconnected short stories, each focused on a different kid's walk home from school. Reynolds is an extremely innovative writer and master storyteller and I'm really looking forward to this one.