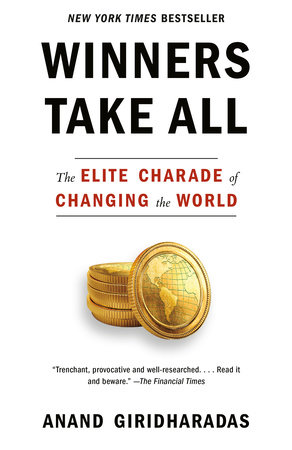 Tonight, author Anand Giridharadas takes the stage at Town Hall to read from the paperback edition of his exciting book Winners Take All: The Elite Charade of Changing the World. I generally try to focus on local authors in the Event of the Week column, but Giridharadas is important enough that he deserves this spot.
Winners is a book about how the super-wealthy elite use philanthropy as a shield to protect themselves from criticism, and to add to their own coffers. It's the kind of book that actually makes waves: Giridharadas has been on the receiving end of a fair amount of criticism from the status quo in the year since the book came out, and so now people are finally discussing the problems inherent in the philanthropy system, and the worsening inequality it causes.
It helps that Giridharadas is an old-school big journalistic personality: with his leather jackets and his sky-high hair, Giridharadas summons the carefully cultivated image of a public intellectual. Think Tom Wolfe, Hunter Thompson, and Joan Didion — the kind of bracingly honest writers who develop cults of fans. It's a rarity these days, but Giridharadas is using his newfound fame to great effect: he's throwing bombs and speaking truth to power on cable television news shows. This kind of criticism never would have been so publicly aired without a personality like Giridharadas to propel it to our attention.
Tonight at Town Hall, Giridharadas will be interviewed by Steve Scher. If you haven't read this book, or if you have read this book, or if you're curious about what it's like to be in the same room as a journalistic superstar, this is the event for you.
And if you want to discuss the book with other readers, please save the date: On December 4th at 7 pm at Third Place Books Seward Park, the Reading Through It Book Club — a joint presentation of Third Place Books and the Seattle Review of Books will be discussing Winners Take All. (All are welcome, with no purchase necessary.) This is the kind of book you read, and fall in love with, and evangelize over, and discuss endlessly. In other words, it's a book by a superstar.
Town Hall Seattle, 1119 8th Ave., 652-4255, http://townhallseattle.org, 7:30 pm, $21.