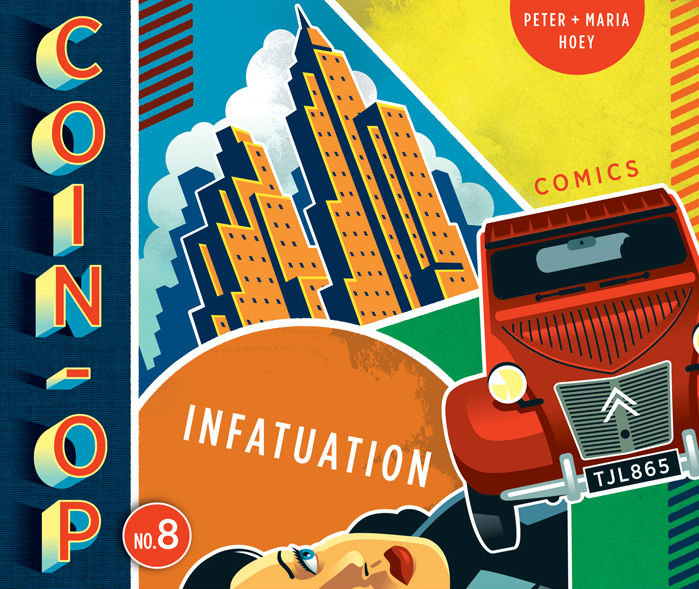 Peter and Maria Hoey are making comics that look completely unlike anything anyone else is doing right now. Their comics have the formal playfulness and serious graphic design of a Chris Ware, the emotional inquisitiveness of a Dan Clowes, and the visual sense of play of a Mary Fleener. Their books are dense but packed with popular culture references and genre tropes — they're cinematic in the true sense of the world, in that they're fascinated with film theory and history. If you haven't read their Coin-Op collection, and the comic series of the same name, you are, basically, reading comics wrong.
This weekend, the Hoeys will be in Seattle for the Short Run Comix & Arts Festival, and they're bringing a new comic with them. Issue 8 of Coin-Op is, to my mind, their best work yet. It's packed with six short comics on the theme of "Infatuation," and their sense of formal play and emotional heft is remarkable.
The first story in this issue of Coin-Op, "Rear View Mirror," is a loose retelling of the Orpheus myth starring two cartoon characters named Saltz & Pepz. It incorporates jazz, classic Disney cartoons, myth, and Clockwork Orange iconography. Between the Kubrick references, the deep and resonant exploration of the two most American art forms of all — comics and jazz — and the David Lynchian infusion of subliminal terror, the story packs a whole graphic novel's worth of ambition into ten pages.
But to my mind, far and away the best story in this exemplary collection is "Intersection," a formal study of the choices we make their repercussions. The story opens with a man and his wife celebrating their anniversary. He leaves the house to pick up some champagne and he gets hit by a truck. When he comes to, he's young again. He meets his future wife years before they actually met in his past life. Do they fall in love no matter what? Or do the shifting circumstances prove that all love is conditional on time and place and cosmic chance?
The Hoeys are making art that most mainstream publishers would never touch. It is uncompromising and intelligent and formally playful. They are exactly the kind of artists you should support at Short Run, and Coin-Op issue 8 is a brilliant introduction to their work.