Every month, Daneet Steffens uncovers the latest goings on in mystery, suspense, and crime fiction. See previous columns on the Criminal Fiction archive page
Reading around: new titles on the crime fiction scene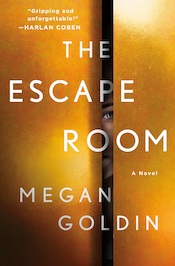 When four cutthroat investment bankers are summoned to an unoccupied office building on a Friday night, they assume it has something to do with their team's recent financial failures and potential staff changes at the firm. In Megan Goldin's The Escape Room (St. Martin's Press) Vincent, Sylvie, Jules, and Sam all have good reason to fear being fired; individually, of course, each of them is determined to ensure they won't be the one to go. Then their collective elevator ride in that empty building turns into an escape-room challenge, pitting them one against the other. Goldin weaves her narrative-thriller magic deftly, interspersing the bankers' predicament with a parallel narrative of life at the investment firm in all its excessive, soul-crushing, venal glory. Partly inspired by Goldin's own experience during a humiliating job interview, Escape Room limns the adrenaline-fueled, dog-eat-dog halls of Wall Street to generate a clever and provocative page-turner.
Both Harry Bosch and Renée Ballard are guilty of burning the proverbial candle at both ends in The Night Fire. Granted, they each have their hands full not just with a shared case, but with separate, individual ones on top of that. Still, the lack of proper sleep – you'd think – is bound to catch up. At least that's what Bosch gently nags Ballard about, as she banters back with an, "Okay, DAD!," attitude. While Ballard pursues the mysterious death-by-fire of a homeless man, and Bosch assists his half-brother Mickey Haller on a court case and its follow-up, together they puzzle over a murder book that's been hidden by an early mentor of Bosch's, John Jack Thompson: why did Thompson, a well-respected detective, bury the unsolved case and how can they solve it nearly 30 years on? As Bosch and Ballard make their way around the best City of Angels eateries, chewing over the evidence as well as the tastiest food the Big Orange has to offer, their ability to work as a team and their growing appreciation of each other as a trustable colleague comes to full-blown fruition. The entire book is a kind of ode to complementary partnerships, in fact, highlighted in Connelly's dedication to the actor who brings Bosch to palpable life: "For Titus Welliver, for breathing life into Harry Bosch. Hold Fast."
The chance of a lifetime – akin, husband-and-wife team Paddy and Finn agree, to winning the lottery – brings the couple to the gatehouse of a posh rural residence in the wet and wild village of Simmerton in Catriona McPherson's Strangers at the Gate (Minotaur). Simmerton is located more than a few stones' throw from, well, pretty much anywhere, but a partnership at a local law firm for Paddy and a proper job as a local deacon for Finn cheer their career prospects immensely. With little trepidation, they head off to a welcome-to-the-neighborhood dinner with Paddy's new boss and his wife, Tuft Dudgeon, who, with her freewheeling cooking and cigarette-smoking styles, is one of the most enjoyable characters in recent mystery-lit. But all is not idyllic in Simmerton, a locale simmering with intrigue: with an unexpected spot of murder, a bevy of curious characters, and endless days of dreich, damp weather, McPherson delivers a maze of a thriller that will keep you guessing, turning pages, and staying up well past your bedtime.
Lisa Jewell is super-skilled at conjuring stories from the inside out: by the time you've immersed yourself in the early narrative of The Family Upstairs (Atria), you realize you're in the middle of a humdinger of a tale, one with a compelling history and more collective emotional baggage than could fit in the hold of an Airbus A380. A long-lost inheritance, Gothicly toxic family dynamics, cultish activities, a derelict mansion in the center of London, a pair of amateur sleuths, a long-ago baby coming of age, and the wily ways of dubious personalities masquerading as saviors are just a few of the elements Jewell uses to spin her story of suspense and psychological thrills and chills. From protagonist Libby Jones — holding down a kitchen-sales job, paying off her mortgage, counting her pennies for extras, and holding out for Mr. Right — to the vagaries of early crushes, vulnerable personalities, and focused deviousness, Jewell's recipe for suspense more than delivers, including the scariest acknowledgement of all: people may not have murderous intent in their hearts, but that does not necessarily make them less like to kill when pushed into a corner.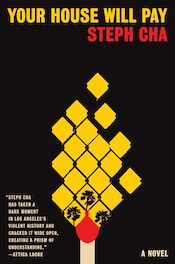 With Your House Will Pay (Ecco), Steph Cha breaks from her terrific Juniper Song trilogy, but her fiercely incisive and insightful writing shines on. Cha delves into a historical crime – the 1991 Los Angeles killing of a young African-American girl, Latasha Harlins, by a Korean-American woman, Soon Ja Du – viscerally transforming the violence and its aftermath into a rich, clear-eyed narrative. Cha tells her story from both families' points of view, drawing us ever-closer to an underlying question: in today's America, in which direction does justice, fairness, and the way forward lie? The deeply affecting answer holds no spoilers, just an irrefutable and certain realization that the only way for justice to be found in America is by communities uniting together rather than allowing themselves to be divided. But just as effective is Cha's ability to build empathy for each one of her characters, reaching into their individual life stories – their dark and light elements alike – and crafting a tale that's utterly humane.
The Quintessential Interview: Rene Denfeld
On the raggedy streets of Portland, Celia, the eponymous Butterfly Girl (Harper) in Rene Denfeld's new novel, finds her place among the homeless. Two street-friends, Rich and Stoner, try to offer her some protection, but really, they are all equally vulnerable to others' bullying, beatings, and worse. When Celia's path crosses that of Naomi, protagonist of Denfeld's The Child Finder who is now on a determined mission to find her lost sister, a horrific range of crimes collide. Delineating the impact of absent and incapable parents while also inscribing the life-arc of a kidnapper and killer, Denfeld's novel shimmers with a quiet intensity, throwing the despair of homelessness into sharp relief while ferreting out the good guys as well. It's a well-told tale of survival against formidable odds, of the power of stories to console and shore up determination, and, most refreshingly, of finding your way home.
What or who are your top five writing inspirations?
My day job has been a huge inspiration. For over ten years I've worked public-defense cases as an investigator, including death row exonerations. What could be more inspiring than that? My kids are also inspirations. I'm a long-time foster mom who has adopted three kids from foster care and fostered others. I love how stories come to us, and the best way to experience that is to live a full, interesting life. So my top five inspirations would be my justice work, fostering, reading, going for long walks, and the beauty of life.
Top five places to write?
I have an antique roll top desk with a magic key. It feels like magic! I also take my laptop with me everywhere and catch moments in waiting rooms, outside prisons, and so forth when working and parenting. Everyplace is a place to write!
Top five favorite authors?
Don't make me do this! I admire so many. Toni Morrison, Jane Smiley, Ernest J. Gaines, Katherine Dunn, Cheryl Strayed….
Top five tunes to write to?
I stop hearing when I write, so I'm afraid whatever music might be playing is lost to me. I only hear the sounds inside the story. If there is music being played inside the story then that is what I hear. The sounds inside The Butterfly Girl were the sounds of the skid row: horns honking, people fighting, music blaring from open strip-club doors. I would hear snatches of songs from the strip clubs and bars: Bon Jovi, Def Leppard, Van Halen. The bittersweet twist of those songs in the presence of a 12-year-old fighting to not be trapped into trafficking herself.
Top five hometown spots?
I live in St. Johns, Portland, Oregon, and I'll arm wrestle you that this is the best place ever. I love Cathedral Park, Baltimore Woods, Pier Park, Slim's Restaurant & Lounge, and our lovely little brickhouse library.