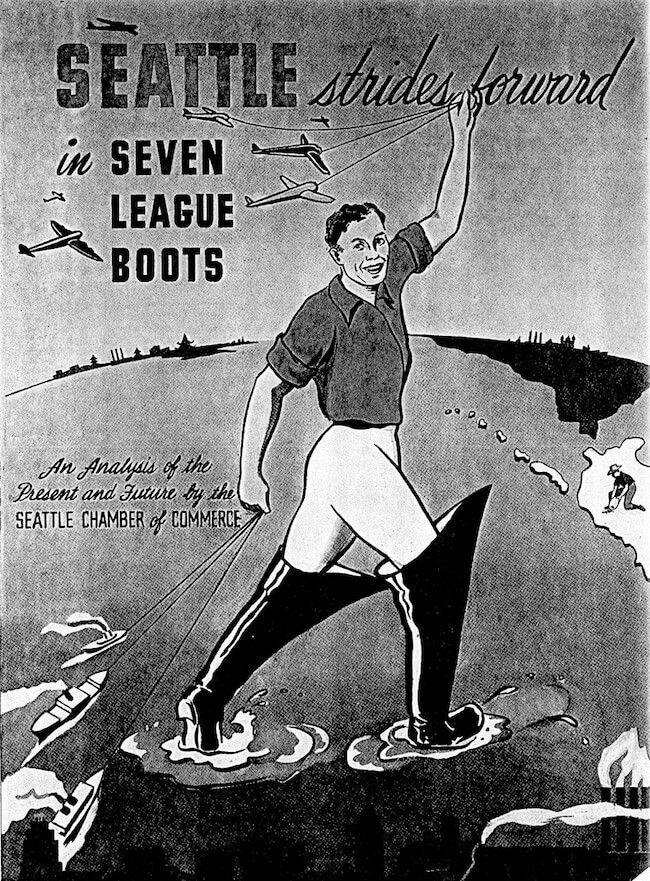 Printer's Ink was a weekly publication out of New York that kept eyes on the printing and advertising trade. In their February 8th issue, from 1923, they noticed a curious advertisement that sprung up in Seattle. "Seattle was greeted by a powerful newspaper advertisement, a full page in size, picturing Seattle as a rising giant among cities, striding forward in 'Seven League Boots.'"
"These articles are not advertisements in the sense of selling land or promoting private interests," it went on to say. "The space is paid for by the Puget Mill Company for the sole purpose of arousing Seattle to a unity of purpose and to a full realization of its present and potential greatness…Let us make 1923 a record year!"
This nice bit of early promotional branding was echoed some years later by the Seattle Chamber of Commerce in a 1945 promotional pamphlet: "Seattle Strides forward in Seven League Boots." Coming off the war, with Boeing strong and soldiers returning home, the Chamber wanted to remind us that "YOU have a part in this new era. YOU and the Seven-League Boots you wear will hep make us the nerve center of a New Empire."
The term has fallen out of common use. Seven-league are mythical boots that you could wear, and gulp 21 miles with each step. Slightly underwhelming by today's standards of wonder (we're more interested in light speed, warp, and hyperspace), seven-league were once a mainstay of fantastical stories.
On foot, or even horse, in the olden days, a trip to Everett from Seattle would have taken at least a day of travel. What a dream to do it in just over a step. In early modernity, the dream turned metaphor, and seven-league boots came to symbolize aspiration above one's current ability.

Seven-League Boots have been on my mind since last Saturday, when I attended the opening night of Book-It Repertory Theatre's Howl's Moving Castle. It's likely you've heard of the 2004 Studio Ghibli film of the same name. It's possible, given the site you're reading, you are also aware of the 1986 Diana Wynne Jones novel that it was based on.
And now, in the land of Seattle, home of seven-league advertising, the exemplary Book-It has put up a holiday production that carefully tears the pages from the book, and pastes them back together with music for glue.
It's a restaging of their own original show, in fact. Book-it put up an earlier production in 2017. The new version, which shares a couple of cast members, has been tweaked quite a bit — and although I didn't see the earlier production to compare them, word on the street is that this production turned some of the earlier version's frowns upside-down.
With the first heavily choreographed opening number, the cast right up against the lip of the stage in their intimate theater space, the vibe is literal and somber. It switches to earnest, then whimsical, before devolving into madcap. It's a two-and-a-half hour romp through a fantastical story in a fantastical land (Wales, but also a magical kingdom called Ingary).
A milliner, the eldest daughter, runs the business with her mother while her younger sisters are sent off to study baking and witchcraft, retrospectively. There's talk of a wizard, Howl, very powerful. There's a witch, the Witch of the Waste, who comes down and, for mysterious reasons, curses the eldest daughter and turns her into an old lady.
Sophie, that character, is played by Rachel Guyer-Mafune, and is one of the great joys of the production. Her bright-eyed young Sophie turned into a delightfully cranky and direct woman who accepts her curse magnanimously, reveling in not having to care, anymore, what people thought about her. I hadn't really considered how key an aged accent could be to a character until I saw the transformation live. Like nearly all on stage, Guyer-Mafune was obviously having a grand time, but her impeccable timing landed some of the biggest laughs of the evening. And, how great that this piece revolves around the story of a (supposedly) old woman. Don't get to see that, too often.
Andi Alhadeff, who played a number of roles, also was fun to watch. Bigger than the stage, her Witch of the Waste was bombastic, deliciously evil, and operatic. All her roles, in fact, were colored brightly, and played with with a plume and wink. Each character set apart from the other with a particular accent — from 'r'-rolling high queenish, to Welsh (one suspects that Gin Hammond, the dialect coach, was effective in her role with Alhadeff, and the rest of the cast as well).
In the only odd note of the evening, Nicholas Japaul Bernard, in the role of Howl, was on voice rest after illness. He mimed his performance, while composer and lyricist Justin Huertas gave him voice (spoken and sung) from off stage. The effect was slightly surreal, as if Howl was so powerful a wizard so as to not require speech to communicate, his mouth still and shut while a voice boomed from the speakers. Bernard delivered despite the awkward circumstance, but I'm sure subtitles and small acts of timing were lost in translation, as was his own voice, which I wish I wish I could have heard.
I walked away humming a few of the more catchy refrains (and, to my companions, shrieking one memorable one, to make each other laugh). The music is bright-lights and broadway bold — it's chipper and, for the most part, memorable. It's played by three musicians who at times sound like thirty, and infuse the room with strings and woodwinds, recalling European folk-music by way of New York aspiration.
The staging, like the music, seeks to evoke more than prescribe, with some key elements used in multiple ways, constantly being reset by a flurry of actors coming on, going off, moving this way and that, all carrying a hat, or cake, or other useful prop. It's kinetic and fun to watch, like a puzzle done and undone again, the pieces turning and moving, something always moving. Like the castle that moves in the story, the stage is never truly set.
The cast devoured this performance. Not a one didn't throw themselves full in with a contagious abandon, never out of control but perhaps coming a bit close at times.
That's why I would go — I wouldn't necessarily go in for the plot (it's charming and fun, but it's not the there, here). I would for the music, which at times teases towards saccharine, but overall has some nice sing-along melodies and weaves well into the emotional landscape of the story — and, at times, setting up some nice comedy. I would, for the fun spirit of a holiday production that isn't about a holiday, and which older kids will certainly have a grand time encountering.
For a theater the size of Book-It, whose productions are always looking towards the possible, this feels like a particularly big reach. The program notes that it is a new musical in development, which, okay, sure perhaps there will be tweaks to come, so it's fun to see all the no matter, try again, fail again, fail better right here in the Seattle Center.
I keep thinking about the size of the stride compared to the length of the legs doing the walking. Seems like they're going for something decidedly grand here. Looks like they even got fancy new boots. Somebody's paying attention to how Seattle is supposed to aspire, and that's something worth showing up for.