Every month, Daneet Steffens uncovers the latest goings on in mystery, suspense, and crime fiction. See previous columns on the Criminal Fiction archive page
Reading around: new titles on the crime fiction scene
Things are mightily askew for Carol Jordan and Tony Hill in Val McDermid's How the Dead Speak (Atlantic). The dynamic duo has been physically torn asunder following the events of 2017's Insidious Intent: Tony is in prison, and Carol is grappling with the crippling effects of PTSD. Then, Tony's horrific mother comes calling, corralling Carol into finding a scam artist. Meanwhile, Carol's Regional Major Incident Team (ReMIT) teammates – including the canny DI Paula McIntyre and the supremely internet-adept Stacey Chen – are on the case when a mass grave is discovered on the grounds of a former convent. McDermid's witty and assured authorial hand juggles multiple strands of mystery and murder to create a narrative that's an absolute pleasure to read, chock-full of criminal conundrums as well as compelling characters, both major and minor.
Early in Robert Harris' The Second Sleep (Knopf) – in the first sentence, in fact – he presents a barely-there clue that transforms what appears to be historical fiction into speculative fiction. Be warned: Harris' evocative depiction of humanity's future is not pretty. His post-apocalyptic world has returned England to one of its darkest ages, a pre-industrial landscape of serfdom, rampant consumption – of the tuberculosis kind – and public hangings. Church and State are one, faith has replaced reason, any pursuit of historical knowledge is outlawed, the Inquisition is alive and well, and the common law reads, "Life for life, eye for eye, tooth for tooth, hand for hand, foot for foot, burning for burning, wound for wound…." Into this claustrophobic setting rides Christopher Fairfax, a priest, who discovers a treasure-trove of allegedly heretical books and objects, and soon has a suspicious death as well as a crisis of faith on his hands. Harris' post-disaster world is skillfully and carefully wrought, lending a particularly chilling aspect to his all-too-plausible vision.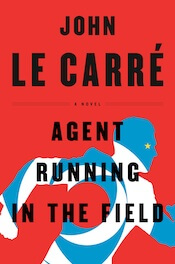 In Agent Running in the Field by John le Carré (Viking), Nat, a newly retired British spy and agent runner who has recently returned to England, is brought back into the intelligence fold to whip a languishing London field office into shape. Meanwhile, an encounter at his sports club leads to a chummy, chatty badminton-centered relationship with a young man named Ed, who throws his disgust with both Brexit and Trump into sharp relief during post-game rants. This being a Le Carré novel, of course, there are no spoilers in noting that political machinations, intelligence-directed manipulations, and deceptive actions are the order of the day, as a slate of spooks confer and, inevitably, eye each other up as possible moles. Agent marks another thoroughly engaging and satisfying spy novel from one of the genre's masters; it is also an energizing and entertaining cri de coeur from a social hero: in October, Le Carré spent his 88th birthday marching for a People's Vote on a second Brexit referendum.
It doesn't get much cosier than Christmas in Provence, complete with cassoulets, tasty olives, and a Christmas market with food from Aix-en-Provence's Sister Cities, including Philly cheesesteaks, English pastries, and German beer. But in M.L. Longworth's A Noël Killing (Penguin), all is not right in Aix. Judge Antoine Verlaque is feeling inordinately grumpy, and his wife, Marine Bonnet, has a secret playing on her mind. Then, a baffling death occurs during a Christmas carol sing-along at the cathedral, and everything goes just a bit more haywire. Corsican gangsters, a bilingual private school, mysterious business practices, and plenty of husband-and-wife intrigue among various local couples drive the plot, while Longworth happily peppers her seasonal tale with lovely and cheeky references to films such as Manon des Sources and The Cook, The Thief, His Wife, and Her Lover, Kate Bush songs, and the swoon-inducing Bradley Cooper.
The Quintessential Interview: Elly Griffiths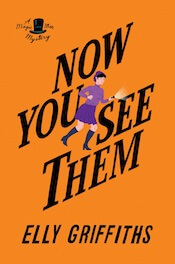 Now You See Them (Houghton Mifflin Harcourt), the latest Edgar Stephens-Max Mephisto mystery, is set against a deeply 60s English backdrop – the Beatles, the new-to-TV Top of the Pops, Bobby Soxers, Mods and Rockers, early days of pro-animal activists, new towns, and the social-class divide. Newly reunited, Stephens and Mephisto join forces once again as detecting partners-in-crime when several young women go missing. But, refreshingly, the dudes have others to reckon with in the form of Emma Holmes-turned-Stephens, now a mother of three and married to Edgar; 19-year-old policewoman Meg Connolly; and newspaper reporter Sam Collins. Women's changing roles at home and at work, father-daughter relationships, and dark obsessions all play their part in this cunning, atmospheric mystery set in and around Griffiths' hometown of Brighton.
What or who are your top five writing inspirations?
My mum. She read to me and my sisters until we were in our teens. I still hear certain books in her voice.
Wilkie Collins. When I first read the description of the shivering sands in The Moonstone, I realised that this was the sort of crime novel I wanted to write, where the landscape itself is doom-laden and sinister.
Agatha Christie. No-one plots better but I think her descriptions are underrated. She does good spooky houses.
Readers. The book community is a wonderful place and, some days, it's my readers that keep me going.
My cat, Gus. He always sits with me when I write. Often, I know, without looking round, that he's staring at me.
Top five places to write?
My garden office. Ok, it's a shed really but it is surrounded by apple trees and has a sea view. And that's it. I don't write when I'm away from home and could never work in a café or on a train. I used to write in an 'office' that doubled as a music practice room, work room, and teenage chill-out area. The shed feels like bliss.
Top five favorite authors?
Wilkie Collins. Jane Austen. Alison Lurie. Anne Tyler. P.G. Wodehouse
Top five tunes to write to?
I never listen to music when I'm writing. I like complete silence. When I'm not working, I'm a big fan of Bruce Springsteen and Italian opera.
Top five hometown spots?
Brighton Pier. There used to be two piers and, in the Brighton Mysteries, it's great to bring the beautiful West Pier back to life.
The Undercliff Walk between Saltdean and Brighton. It's the scene of a murder in Now You See Them but this is actually a beautiful walk, cliffs on one side, sea on the other. I'm there most days, gazing out to sea or having coffee in the Whitecliffs Café. In the summer, I swim in the sea every day.
North Laine. Not as smart as the famous Brighton Lanes but full of fascinating second-hand shops.
The Fortune of War. It's a pub on the edge of the beach that looks like an upside-down boat. When I was a teenager, it was considered a daring place to go and, even though the surrounding area has been smartened up, the Fortune still has a slightly rackety feel to it.
Rottingdean. A beautiful village, just outside Brighton, famous for smuggling and for once being the home of Rudyard Kipling. In the wall around the Kipling Gardens, there's a stone Saxon head that allegedly brings good luck if you touch its nose and turn round three times….