Every month, Daneet Steffens uncovers the latest goings on in mystery, suspense, and crime fiction. See previous columns on the Criminal Fiction archive page
Reading around: new titles on the crime fiction scene
A palpable thread of menace winds relentlessly through Oligarchy by Scarlett Thomas (Counterpoint), in which Natasha, the daughter of a wealthy Russian businessman, lands at a boarding school in the north of England. Her home-away-from-home posse includes the French and fabulous Tiffanie, the highly dramatic Bianca, the extroverted Rachel, the sly Lissa, and non-border Danielle, at whose house they all indulge in freely available WiFi. (At the school they are limited to an hour per day). The girls obsess about Princess Augusta, a local aristocrat whose portraits hang on the school walls and who died tragically in a nearby lake. They indulge in eating disorders – applying serious amounts of peer pressure on each other – and over-consume alcohol when they can, taking us effortlessly along on their ride. But this darkly funny novel of suspense, glorious in its scope, is just as interested in delineating the decadent capitalism glittering within contemporary London, the easy, casual cruelty integral to criminally funded wealth, and the pitch-black impulses that can lurk within the human heart.
Liz Moore's Long Bright River (Riverhead) throws America's opioid crisis into sharp, stark relief, capturing, on a very local level, the sheer scale of its destruction. But Moore's perfectly wrought story of a Philadelphia policewoman, Mickey, searching for Kacey, her addict sister, never devolves into gratuitous overindulgence. With an apparent serial murderer out on the city's streets targeting vulnerable women, Mickey is overwhelmed with worry, attempting some off-the-books sleuthing of her own while putting her job at risk. The edgy and spare writing is a perfect match for Mickey's withholding personality as she searches for Kacey, spars with her colleagues, and, most movingly of all, shares the story of the childhood that shaped two sisters into such seemingly different personalities.
Ian Rankin's Westwind (Little, Brown) rises again: This is the first U.S. publication of Rankin's standalone 1990 espionage thriller which, scarily enough, is creepily redolent of certain contemporary events. Okay, there are some throwbacks – smoking-seat availability on planes, for one thing – and the writing isn't always as polished as it is in Rankin's Rebus novels, but this crafty story of surveillance, spooks, and ordinary people finding themselves in extraordinary situations is still well on the money. Martin Hepton, our Everyman hero and modest British satellite observer, finds himself suddenly having to puzzle out why a U.S. space mission ended badly and why his colleagues are being targeted by an alarmingly successful assassin. Meanwhile, the American military is busy pulling out of Europe, possibly taking the Brits with them. As generals clash with civil servants – and with a bevy of authority figures blatantly mis-wielding their power – this 30-year-old novel manages to be both of its own time as well as of ours.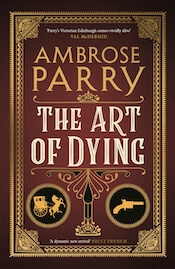 In The Art of Dying (Canongate), their terrific follow-up to 2018's The Way of All Flesh, wife-and-husband team Marisa Haetzman and Christopher Brookmyre – collectively known as Ambrose Parry – extend their immersive world of 19th Century Edinburgh, seamlessly mixing real-life characters with fictional ones and bringing the city's presence as a leader in medicine to vivid life. While doctors and patients alike are coming to terms with the discovery of chloroform – and as ne'er-do-wells are exploring their own uses for it – a mysterious nurse appears to be taking matters of life and death into her own hands. Happily, housemaid-turned-doctor's assistant Sarah Fisher and Dr. Will Raven are on the case: Sarah is coming into her own, inspired by the rising wave of feminism – Mary Wollstonecraft's A Vindication of the Rights of Woman shines its literary light throughout the novel – while Will is struggling to define who he wants to be. Still, together, they present a detective force to be reckoned with. Brookmyre draws on his thriller-writing expertise as deftly as Haetzman, an anesthetist, utilizes her MA in medical history, making The Art of Dying, as one character says to another, "'…fiendishly clever….Or cleverly fiendish,'" and pure, unadulterated reading pleasure.
In The Wife and the Widow (Minotaur), Christian White's follow-up to his celebrated debut The Nowhere Child, two women struggle to come to terms with what they thought they knew about their lives. Set on a holiday island off the coast of mainland Australia during winter, the off-season hollowness of the setting imbues this thriller with its chilling, claustrophobic atmosphere as Abby, a taxidermist who also works at the local grocery store, makes one unwelcome discovery after another about her husband. Meanwhile, Kate, a well-off, stay-at-home mom, is on the warpath to discover why her husband has been pretending to speak with her from an overseas conference when a single phone call to his office has exposed an even bigger lie. White's sophomore outing succeeds as both a clever literary puzzle and an insistent page-turner.
The Quintessential Interview: William Gibson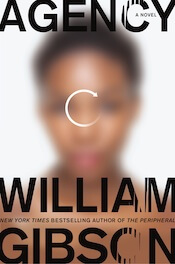 The ever-astute William Gibson follows up 2014's The Peripheral with Agency, in which myriad characters in various time frames grapple with and manipulate cutting-edge technology as well as the latest political developments. When Verity, an early 21st Century app whisperer interacts with Eunice, a highly evolved – and perpetually evolving – AI, the scene is set for all kinds of head-scrambling shenanigans. Gibson has been chronicling our times with a perceptive eye on the near future for nearly 40 years now, and his authorial hand is as evocative and as sharp as ever. He lives in Vancouver, Canada.
What or who are your top five writing inspirations?
When I was starting to write, I might have said JG Ballard, Thomas Pynchon, David Bowie, Lou Reed... At this point I don't think that way. Inspiration is the last thing I read that I found really wonderful!
Top five places to write?
In our dining room, which is set up as our library. In my car, parked somewhere with a view. In a Starbucks, if there's an easy chair available between busy periods. Parked somewhere with a very different view. Likewise, another view.
Top five favorite authors?
I don't have those, the way I once did. I miss David Foster Wallace and I'd love to see what he'd have done with our newsfeed today. Likewise JG Ballard, though in a way he'd already done our newsfeed today. Iain Banks. I want a new Jack Womack novel. And new nonfiction from Iain Sinclair, particularly his take on the Brexitition, though like Ballard he's somehow already cumulatively done it.
Top five tunes to write to?
I'm not currently listening to music as I write, but am lately haunted, deeply, by a song called "21st Century USA" from the new Drive-By Truckers album, lyrics by Patterson Hood. DBT have been quite an inspiration to me generally.
Top five hometown spots?
A park just east of Main renamed Dude Chilling Park, mainly because it was renamed that. Vancouver's Chinatown, as it struggles to resist gentrification. Liberty, a great bakery-cafe on Main Street. Siegel's Bagels, 1883 Cornwall, get the Big Breakfast Bagel. Mamalee Malaysian Delight on West Broadway, for Singaporean classics.