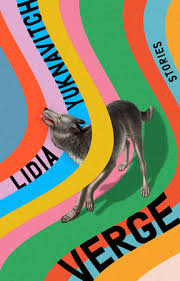 Portland writer Lidia Yuknavitch loves to give voice to the voiceless. Her book Dora: A Headcase offered agency to a young woman who was previously famous solely for being a patient of Sigmund Freud. The Small Backs of Children creates a life for a young woman whose worst day has been made famous by a war photographer. The Book of Joan whips Joan of Arc into a dystopian future and imagines a different outcome for her.
In Yuknavitch's latest collection of short stories, Verge, the author continues examining these themes of her work by focusing on outcasts and victims and castaways from society. They build tiny cities out of garbage and they make up whole new commandments and they are recruited to run black-market organs through cities in decline.
Yuknavitch is one of the Northwest's best writers. She's willfully different from mainstream fiction — her prose is prickly and angry at times, even while it's incredibly beautiful — and she's eager to keep pushing at those boundaries. That independence, that energy, and that ferocity has made her a role model for generations of young Northwest authors.
The fact is, while Yuknavitch loves to write about outsiders, she very well could be something akin to an insider for a new generation. By the time the dust settles, she just might be the most influential regional writer of this generation.
Yuknavitch reads at Third Place Books Seward Park on Wednesday, February 5th at 7 pm. The reading is free.