Every month, Daneet Steffens uncovers the latest goings on in mystery, suspense, and crime fiction. See previous columns on the Criminal Fiction archive page
Reading around: new titles on the crime fiction scene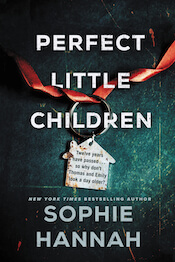 Sophie Hannah is at the top of her game with Perfect Little Children (William Morris), a standalone thriller which attains the seriously creepy and multi-layered complexity levels most closely aligned with her previous novels, Kind of Cruel, The Other Half Lives, and Hurting Distance. When hyper-curious Beth Leeson drives accidentally-on-purpose past her former friend Flora's house, she has her ever-vigilant mind beautifully blown: though the families have not seen each other for 12 years, Flora's children, Thomas and Emily, who should be in their teens, look like they haven't aged at all. Hannah turns up one surprise after another in this densely plotted, propulsive read – I read it in one go – which includes super-crafty red herrings and leaves just one question hanging: when can we expect the much-anticipated return of her brilliant and wonderfully prickly detectives Charlie Zailer and Simon Waterhouse?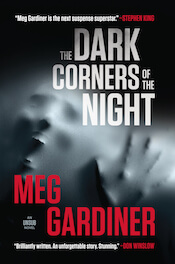 FBI behavioral analyst Caitlin Hendrix returns for her third case in Meg Gardiner's The Dark Corners of the Night (Blackstone Publishing). While her boyfriend Sean Rawlins, an explosives expert with the Bureau of Alcohol, Tobacco, Firearms and Explosives, chases an elusive bomber known as the Ghost, Caitlin and her colleagues grapple with an L.A.-based serial killer known as the Midnight Man. Under cover of night, the Midnight Man creeps into family homes, murdering the parents, terrifying the kids, and leaving ghoulish drawings of eyes painted in blood. As the local police and the FBI work together to isolate the killer's hunting ground and analyze the knottier differences between malignant paranoia, fanaticism, sociopaths and psychopaths, their pursuit of this shadow-man develops into a chill-inducing power struggle. Gardiner's latest is yet another terrific – and terrifying – chapter in her UNSUB (unknown subject) series, currently being developed by Amazon Studios for our small-screen delectation.
The psychological-thriller rabbit hole in Lori Rader-Day's The Lucky One (William Morrow) is Mariana Trench-deep. Alice is a one-time kidnap victim who works for her father's construction business by day and surfs a website called The Doe Pages by night, perpetually fascinated by the stories of unidentified and missing people. Meanwhile, Merrily, whose dull job leaves much to be desired, spices up her life by showing off her long legs online in exchange for the helpful ka-chings that enliven her bank account. When the face of Alice's kidnapper turns up on The Doe Pages, the stage is set for a particularly intricate mystery that attract both her and Merrily's attentions. Rader-Day is a master at creating an immersive atmosphere of page-turning suspense; she also excels at structuring fictional puzzles that positively buzz with possibilities, clever mis-directions, and, finally, perception-shifting revelations. The Lucky One is Rader-Day's fifth thriller; I am already happily looking forward to her sixth.
A baffling murder has Charles Lenox and his Scotland Yard acquaintances puzzling over a frustrating dearth of clues: a man turns up dead in a train carriage with all of his clothing labels neatly removed. Who is he, and why was he killed? The Last Passenger by Charles Finch (Minotaur), set in late 1855 and early 1856, smartly incorporates the heated political scene in America – though slavery has been made illegal in the British Empire, that abhorrent enterprise still flourishes in the States – while involving Lenox in a multiple-element mystery that just won't quit. In this final segment of a prequel trilogy to the Lenox series, our young detective has more than one conundrum on his hands: Lenox's best friend Lady Jane has determined that it's time for Lenox to marry, and one Kitty Ashbrook appears to be interested. But what of Lenox's own matters of the heart? And, as always, Finch's historical novel is alive with the kind of salient details – from word origins to new food trends – that imbue his books with an engaging and engrossing vitality.
Nature clashes with the supernatural to biblical proportions in The Chill by Scott Carson (Emily Bestler Books/Atria). In New York City, Deshawn Ryan works deep in the bowels of the urban underground, helping to build Water Tunnel Number 3: once it's completed, it will advance the city's water system – at least, that's the plan. Meanwhile, up in the Catskill county of Torrance, location of one of the region's multiple reservoirs, Sheriff Ellsworth struggles to re-connect with his wayward son, Aaron, as a weather system brings torrential rain to their area. Gillian Mathers, Deshawn's daughter, is a detective sergeant with New York City's Department of Environmental Protection Police who is currently stationed in Torrance. As Carson's story unfolds in a format akin to those wild and wonderful '70s disaster movies – think Earthquake, The Poseidon Adventure, Airport, and the Towering Inferno – his various characters realize that their destinies have been inextricably tied together since their grandparents' time: when their local Chilewaukee Reservoir was created some 70 years earlier, a village called Galesburg was flood-buried under the water. Carson, a pseudonym for thriller writer Michael Koryta, deftly weaves contemporary issues of property, settlement, fanaticism, and colonization through this novel of suspense, long-simmering hostilities, and cold-blooded revenge.
The Quintessential Interview: Elizabeth Little
Half the fun in Pretty as a Picture – Elizabeth Little's follow-up to the excellent Dear Daughter – lies in its narrator's singular, knowledgeable, and savagely funny voice: Marissa Dahl is a film editor with an infinite number of canny and clever movie references at her Hollywood-steeped fingertips. She's also prickly as hell, and when she's hired onto a super-secret film project helmed by the notoriously challenging director Tony Rees, the soundstage is set for emotional fireworks, industry scandals, and murderous shenanigans. A suspenseful thriller with an entertaining play on the locked-room mystery trope, Pretty as a Picture more than cements Little's reputation as a spectacularly sharp and captivating writer.
What or who are your top five writing inspirations?
Steph Cha, Kellye Garrett, Alex Segura, Greg Herren, and Lori Rader-Day – I'm lucky enough to be friends with these five powerhouses, all of whom are doing such great work on so many fronts. They are amazing writers and powerful advocates, and I am so grateful I get to learn from them (and also goof around with them online).
Top five places to write?
My desk, with the space heater aimed directly at my toes. This inexplicably comfortable wicker chair I got ten years ago from IKEA, with my laptop on a footstool and my cat on my lap. A quirky coffee-shop out by my kid's school—assuming I get the one table I like. Anywhere, if it's across the table from a friend. On my phone, in the bathtub.
Top five favorite authors?
This list is ever-changing—probably depending on what I would most like to be writing in any given moment—but today I'd say: Shirley Jackson, Ursula K. Le Guin, Zadie Smith, Patricia Highsmith, Mel Brooks.
Top five tunes to write to?
I write almost exclusively to movie soundtracks. My favorites are There Will Be Blood, The Social Network, If Beale Street Could Talk, Paterson, Phantom Thread.
Top five hometown spots?
I'm a relative newcomer to LA – nine years and counting! – but my favorite spots to while away an hour or three are House of Pies, the Fern Dell Nature Trail, Alcove Cafe's side patio, the Vista Theatre, and Dodger Stadium.