Every month, Daneet Steffens uncovers the latest goings on in mystery, suspense, and crime fiction. See previous columns on the Criminal Fiction archive page
Reading around: new titles on the crime fiction scene
Over a months-long time period, glaciologist Felicity Lloyd has been having odd blackouts, losing hours at a time: the primary reason appears to be her fear of her abusive husband coming after her. When she manages to obtain a career-changing job that will take her to halfway around the globe to Antarctica, she grabs it with both mittened hands. But the therapist she's been seeing in Cambridge, Joe Grant, is uncovering and solving a few mysteries of his own when it comes to Felicity, and the parallel plotlines soon converge into a satisfying double helix that thriller author Sharon Bolton excels at. The Split (Minotaur), her latest foray into dark psychological territory edged with a taut police procedural, delivers some of Bolton's best chills so far – and that's really saying something.
The Lost Orphan (Mira), Stacey Halls' follow-up to 2019's mesmerizing The Familiars places us firmly in Georgian London, with its richer-than-rich Mayfair residents as well as those urban dwellers inhabiting the direst of slums. In the first pages, Bess Bright approaches the city's Foundling Hospital with her new-born daughter: as a market shrimp-seller, Bess simply doesn't have the means to support the child. Six years later, Bess returns to the hospital with her savings, determined to bring her daughter home. In the first of multiple twists in this wily tale, Bess is informed that her daughter has already been claimed by someone using Bess' name. Halls' sophomore effort, a properly Gothic thriller with deliciously dark deceptions at its heart, thrums to life with her eloquently wrought details of London life – from its demure, oppressive drawing rooms to the labyrinthian East End streets and sinuous Thames – while evoking shiver-inducing shades of Wilkie Collins' The Woman in White and Sarah Waters' Fingersmith.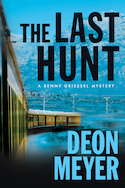 In The Last Hunt by Deon Meyer (Atlantic; translated by K.L. Seegers), Captain Benny Griessel of the elite Hawks police unit and his partner Vaughn Cupido investigate murder most foul tied to a train: it's murder on the South African Rovos Express. Meanwhile, in France, a former freedom fighter is pulled unceremoniously back into a struggle he'd considered part of his past. Meyer deftly unites these two strands while interrogating contemporary South Africa politics, European history and architecture, and crimes most foul – all the while sprinkling engaging pop-culture references such as Harry Potter, Dr Seuss, and Australian crime-fiction giant Peter Temple into his narrative – weaving a finely tuned page-spinner that's an absolute pleasure to read.
New York City is the multi-faceted protagonist in hair-raisingly wonderful The City We Became by N.K. Jemisin (Orbit). Cities have souls, is the speculative premise in this compelling and adventurous novel, and the Big Apple, the most fabulous of them all, boasts no fewer than one soul per borough, fiercely and artfully possessed by an arts administrator, a public-library employee, a former white-collar man, a mathematical whiz, and a rapper-turned-city-councilwoman. Together, they must pit themselves against a creepy virus-spreader, a Woman in White who is scarily reminiscent of Narnia's White Witch as well as channelling the ugly specter of white supremacism. Contemporary fireworks explode and historical sparks fly in Jemisin's superb literary symphony of flawed superheroes finding each other and discovering their collective – and urgently necessary – power.
The Quintessential Interview: Jennifer Hillier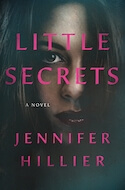 Already having established herself as a veritable queen of creepy thrillers – 2018's Jar of Hearts is a case in point – with Little Secrets (Minotaur), Jennifer Hillier firmly retains that crown. Marin Machado is browsing in a festive pre-Christmas Pike Place Market with her four-year-old son, Sebastian, negotiating the option of a lollipop for good behaviour, when every parent's worst nightmare comes to pass: while Marin is engaged in a texting exchange on her phone, Sebastian vanishes. Per the security camera footage, someone dressed as Santa Claus left the premises with the boy, but 16 months later, the case is still wide open. Marin, already down a depressed and overwhelmed rabbit hole, has hired a private investigator to pursue the case. But when the PI brings her evidence that Marin's husband, Derek, is having an affair, Marin's razor-sharp focus on finding out what happened to her son turns in a new, dangerously obsessive direction.
What or who are your top five writing inspirations?
Paul Bernardo and Karla Homolka (a Canadian serial killer who's in prison for life, and the wife who helped him, who's now out of prison), who inspired two books of mine so far (Creep and Jar of Hearts). Seattle, where I lived for eight years. Therapy, where I explore all my childhood traumas. The shower, where I seem to solve all my plot problems. And the movie Se7en, because the story never fails to both impress and horrify me.
Top five places to write?
The living room sofa, the backyard deck, the bedroom, the dining room table, and my office. You probably wouldn't think I even had a home office with those first four, but I feel claustrophobic in it, so I only write in there if I absolutely have to.
Top five favorite authors?
This is the hardest question – how to choose only five? I'll do it really fast. Off the top of my head: Stephen King, Riley Sager, Meg Gardiner, Chevy Stevens, and Alafair Burke.
Top five tunes to write to?
I can't write while listening to music, but I'll play music in between bursts of writing. The songs that are always on my playlists are "Creep" by Radiohead, "Moonlight Sonata" by Beethoven, "Black Hole Sun" by Soundgarden, "Bobcaygeon" by The Tragically Hip, and "Air on the G String" by Bach.
Top five hometown spots?
Kerry Park in Queen Anne, which has the best view of the city, and is the very last place my husband and I visited before we moved back to Canada. Un Bien on 15th Ave, which makes the greatest sandwiches I've ever had. Golden Age Collectables, a store on the lower level of Pike Place Market that brings me right back to my childhood. CenturyLink Field during a Seahawks game (oh how I miss the roar of the 12s and the taste of garlic fries). And Occidental Square, where, after leaving a Guns N' Roses concert early to get home to the babysitter, we heard Slash playing the opening to "Sweet Child O' Mine" from three blocks away. That guitar solo soared as high as the sky, and I will never forget how it sounded.