Every month, Daneet Steffens uncovers the latest goings on in mystery, suspense, and crime fiction. See previous columns on the Criminal Fiction archive page
I fell in love with mysteries for the first time as a kid, reading Nancy Drews, Encyclopedia Brown, The Great Brain, Enid Blyton's Famous Five and Secret Seven, and my mom's collection of Agatha Christies, Dashiell Hammetts, Raymond Chandlers, and Georges Simenons. I fell in love for the second time as an adult, hoovering my way through character-fuelled literary riches: Maj Sjöwall and Per Wahlöö's's Martin Beck, Janwillem van de Wetering's Grijpstra and de Gier, Sue Grafton's Kinsey Millhone, Dennis Lehane's Angela Gennaro and Patrick Kenzie, and Walter Mosley's Easy Rawlins. At the same time, the comic-suspense stylings of Lauren Henderson and her intrepid private investigator Sam Jones led me into the wild worlds of Tart and Tartan Noir. And don't even get me started on Josephine Tey.
Well-executed crime fiction is compelling on many levels, whether it's a police procedural, a noirish private-eye vehicle, an adventurous comic heist, or a standalone thriller driven by an extraordinary Everywoman. These stories also serve as engaging investigations into our own world: while keeping us turning those suspense-filled pages, crime fiction often directs us to look unflinchingly at some of the most unrelenting gaps in our societal safety nets, shining an insistent light on political and corporate corruption, sexual violence, racism, xenophobia, bigotry, inequality, and injustice. It examines their root causes, while giving voice to those who are normally silenced.
In our time of toxic politics, overt corruption, a pandemic, and deafening calls to destroy science, education, refugees', migrants', women's and workers' rights – civilized life, really – these crime-fiction writers' work can be, if not a balm, then a heartening reminder that the investigative light in fiction still shines bright.
Take, for example, the four books covered by the capsule reviews below: two novels are by long-established and consistently excellent writers; the others are by two of the most exciting voices to emerge in the mystery-suspense arena in recent years. Individually and collectively they cover not just the darkest of contemporary crimes and abuses of power, but the ongoing underlying fear of difference, all too easily exacerbated and exploited, that drives some to terrible actions and others to work to redress those actions.
With the shuttering of the Seattle Review of Books, this will be my sign-off, for now, after three and a half truly enjoyable years of penning monthly columns. Please consider this – along with the ones before it – respectfully submitted.
Reading around: new titles on the crime fiction scene
A new novel featuring VI Warshawski, Chicago's kickass – not to mention ass-kicking – private investigator, is always cause for celebration. Dead Land by Sara Paretsky (William Morrow) kicks off with Paretsky's trademark string of mystery-fireworks: who is the single-monikered Coop who appears to have a homeless musician's best interests at heart but is confrontationally perverse? Is the aforementioned musician really a once-famous artist? And what does any of this have to do with a four-year-old mass shooting deep in the heart of Kansas prairieland? Part of the pleasure of going along on Victoria Iphigenia's crime-fighting ride – as she gets inevitably and relentlessly pummeled emotionally, mentally, and physically – is to appreciate her all-too-human responses to oddities – from fellow humans to surprise circumstances – that life throws in front of her. Her tough exterior and no-nonsense approach to tackling the conundrum at hand does not protect her soft-hearted, deeply empathetic interior as she wins life-saving loyalty from her dogs, uncovers some of the deeper-seated avarices of her city's leadership, struggles with our country's bad behavior, and, with her actions, earns the trust of (nearly) everyone around her, from edgy lawyers to people-shy recluses.
A body hanging from a tree more than disrupts police detective Manon Bradshaw's visit to a park with her young son, Teddy: it also marks the start of a broader investigation into whether the cause was suicide or murder, and an even bigger investigation into a possible human-slavery racket. With Remain Silent (Random House), the third Bradshaw thriller, Susie Steiner flexes her authorial muscles, deftly painting a comprehensive portrait of the dismal lives of migrant workers whose presence is so crucial to the host country's economy. At the same time, she eloquently captures the savage, ravaging fear that underlies everything from xenophobia and sexism, to plain-old, soul-destroying bitterness. But there's a softer light shining here too in Bradshaw's musings on middle-age, the gentle teasing that goes on between her and her colleagues, and even a dose of the tough love that's sometimes required when it comes to lasting friendship. I read this book in a single sitting, pushed to both tears and laughter.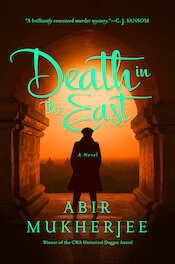 Death in the East by Abir Mukherjee (Pegasus Crime) interweaves two murder mysteries. One unfolds in India where, in 1922, Captain Sam Wyndham of the Imperial Police Force in Calcutta has retreated to an ashram in the lush Assam hills where he plans to throw off his opium addiction once and for all. The other investigation is set in 1905 London where, as an 18-year-old constable with the Metropolitan Police, Wyndham worked one of his earliest cases: the murder of a young woman in the poverty-stricken East End. The way that Mukherjee evokes that part of early 20th-century London – rife with anti-Semitism, xenophobia, bigotry, and that all-too-easy tendency to blame the other – feels downright contemporary, a grim reminder of the importance of learning history. But he also draws his curtain back to reveal a changing world: in India, we don't get to see as much as usual of Wyndham's sidekick and partner-in-solving-crimes Sergeant Surendranath Banerjee, but when we do see him, we see a man whose eyes have been opened, irrevocably inspired by Gandhi's activism and resistance to British rule.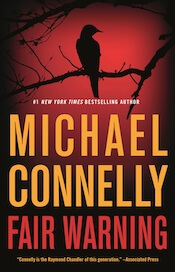 Murder most foul (no, really – wait until you read the baddie's vicious killer-action of choice) collides explosively with the current threat to our independent and local newspapers in Michael Connelly's Fair Warning (Little, Brown). When an old one-night-stand catches up to veteran reporter Jack McEvoy in an alarming way – the woman turns up dead, the cops come to question him – it sets him off on the trail of a potential digital-stalker story, a race-against-the-clock investigation that may also involve DNA analytics companies and some nefarious dark-web action. Rich in its exploration of the reporter-editor-publisher roles – Jack's conversations with his editor, Myron, are pure newsroom gold – Fair Warning is an engaging and terrific reminder of the critical importance of a free press, showcasing the resilience, integrity, and transparency that proper journalism contributes to a functioning community.